1. Introduction
The VPFIT Insbar II elegantly marries form and function with its svelte dimensions and feather-light build. It's clear from the jump that this device isn't just about aesthetics. Beneath its sleek exterior lies a 400 mAh battery, precision-engineered 1.2-ohm mesh coil pre-filled pods available in 10 flavors, and a USB Type C charging system.
As we delve deeper into our review, we'll uncover how these technical nuances shape the Insbar II experience, setting it apart in a sea of alternatives.
2. Design & Quality
2.1 Packaging
The VPFIT Insbar II is purchased in two parts. You need to buy the Insbar II battery kit and a pack of Insbar II pre-filled pods.
The kit comes with:
1 x Insbar II battery (mod)
1 x USB Type C charging cable
1 x User Manual
And a pack of pods includes:
3 x  pre-filled 2 mL pods with 1.2-ohm mesh coils
2.2 Body Design
The VPFIT Insbar II mod is a little thing with dimensions 24.3 x 14.3 x 65.7 mm (1 x 0.5 x 2.6 in). This mini-mod is a flattened pen design with rounded edges with a shiny plastic exterior.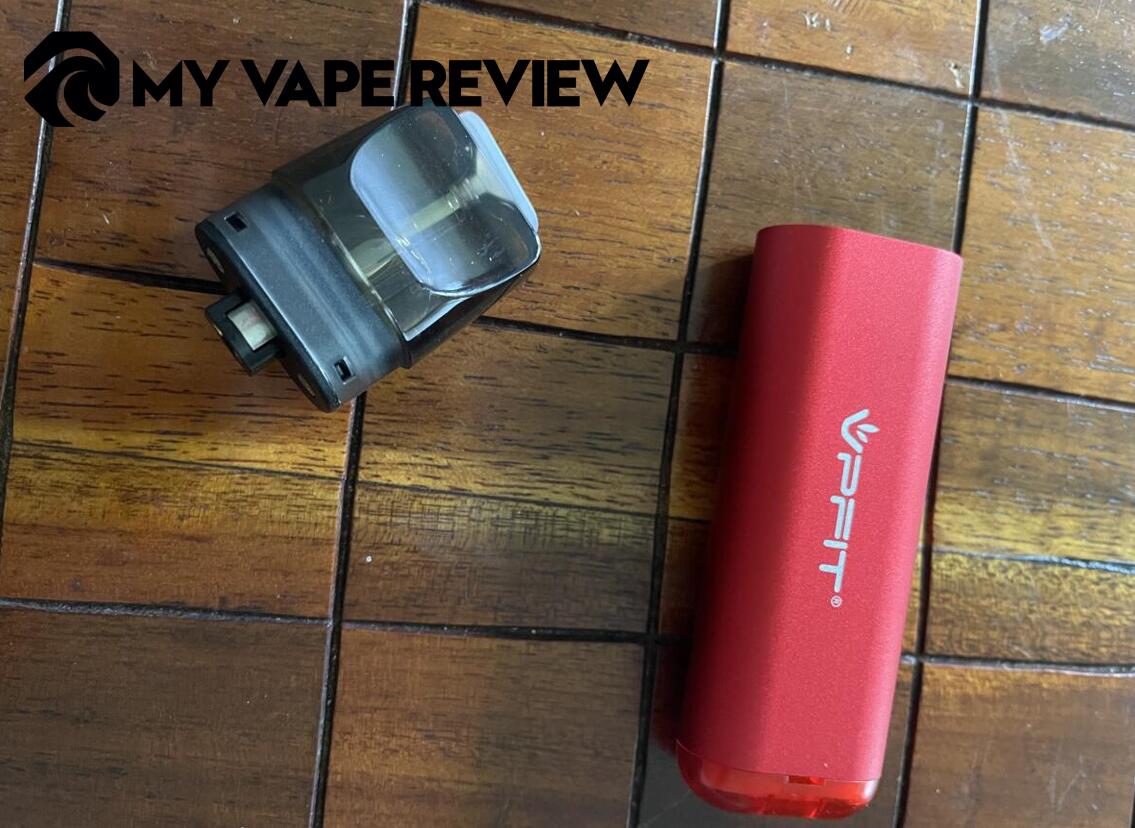 The pod fits into the void at the top of the device, and the bottom has a USB Type C charging port. The base piece (with the charging port) is a translucent tinted plastic that contains the LED indicator. This means the entire base lights upon each inhale or blinks when you insert or remove a pod. Silver VPFIT branding runs vertically up the vape. There are no buttons, controls, or screens to fuss over, but you do have a choice between 6 colorways; Black, Silver, Blue, Red, Green, and Pink.
Overall, the design is minimal but sleek, seemingly focused on providing a simple, lightweight vaping experience.
2.3 Pod Design
The Insbar II's atomizer pods are different from most pods on the market because of two intentional design choices – the e-liquid and heating coil are separated before use, and each pod is pre-filled with one of VPFIT's 10 signature flavors.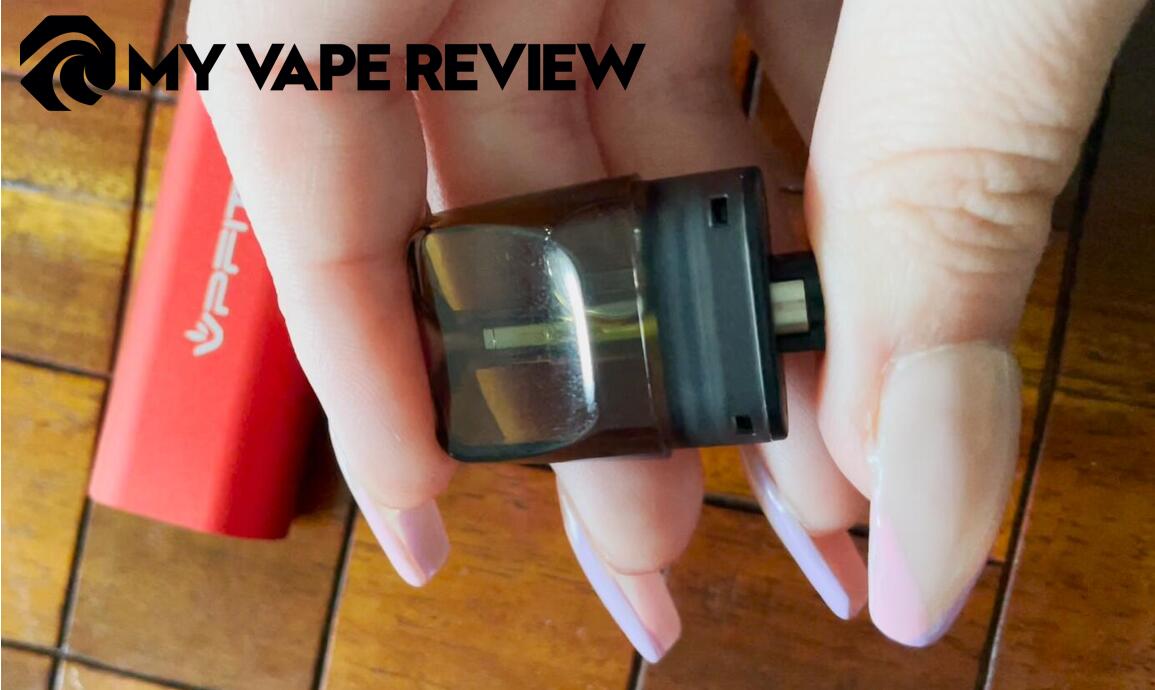 Separating the e-juice from the 1.2-ohm mesh coil ensures that the juice within the pod is stable and uncontaminated by air, which keeps the quality intact for longer. This sealed pod design also prevents any leaking situations because there's no need for a silicon fill port.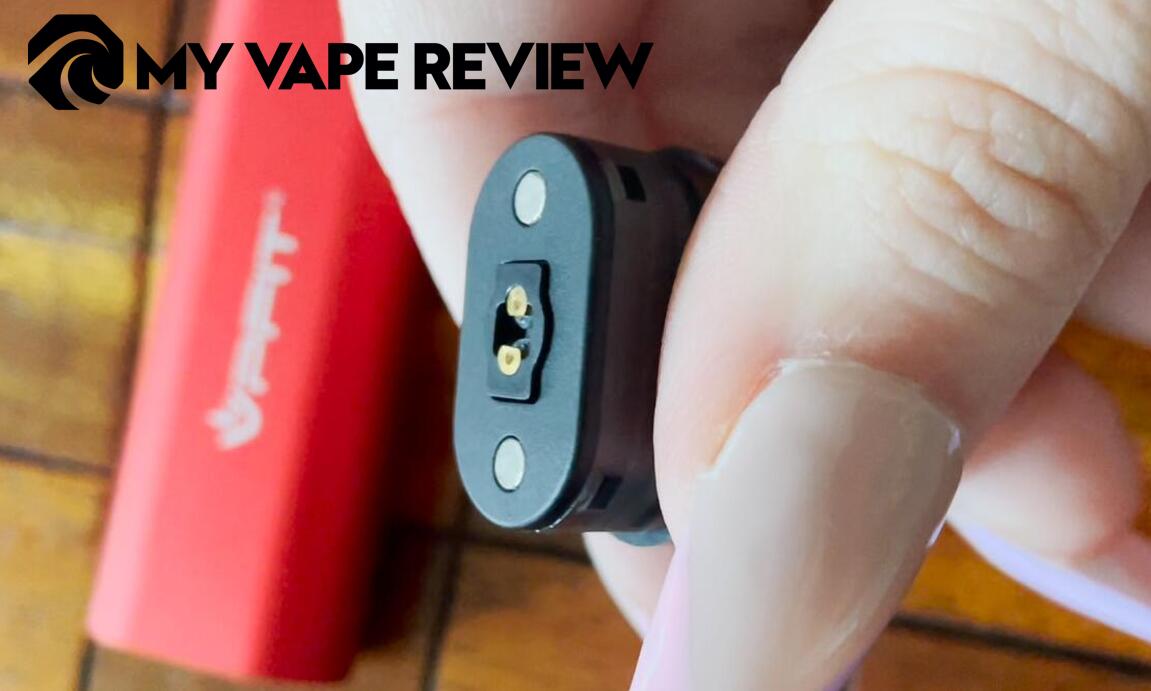 Upon unboxing a new pre-filled 2 mL pod, you will notice the tinted polycarbonate plastic with a wide rectangular mouthpiece. The 2 mL capacity means the Insbar II pod is TPD compliant, making it a good option for vapers in the EU. On the bottom, you will find two small circular magnets that keep the pod securely attached to the VPFIT Insbar II. You will also see the mesh coil sticking out of the base. This is intended and means that the e-juice and coil are still separated.
2.4 Battery & Charging
The VPFIT Insbar II is kept lightweight (around 30g) and miniature thanks to its modest 400 mAh battery. Despite this smaller battery choice, battery performance is well above par. We didn't find that we had to recharge too frequently and could easily make it through a day of vaping.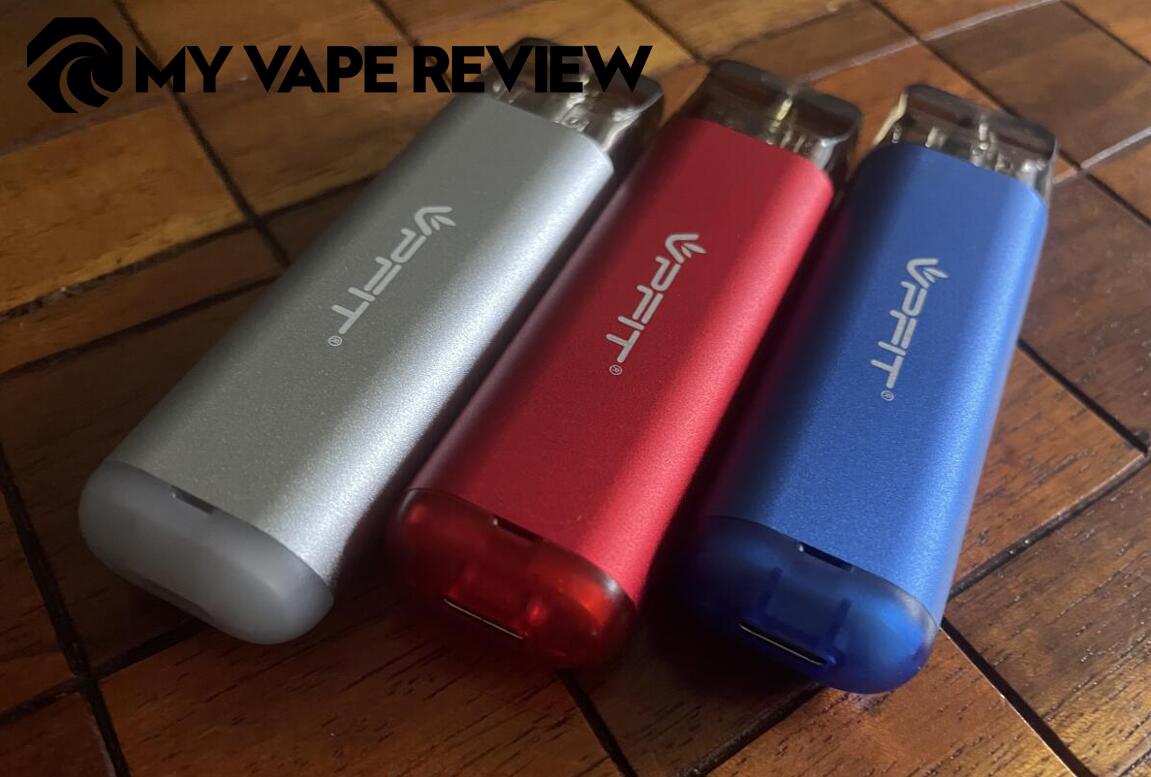 Charging itself is straightforward; just plug a Type C charging cable into the charging port, and the battery will be fully charged in about an hour. The LED base slowly flashes, aka breathes, when the device is plugged in. You can also continue to puff away when the vape is charging.
2.5 Durability
We keep mentioning how small the VPFIT Insbar II mod pod is, so you might think it would be a bit flimsy, but that isn't the case at all. The Insbar is actually quite sturdy. Because of the metal body construction, there is absolutely no give when pressing on the body near the void when a pod isn't installed. And the vape doesn't easily scratch or wear when dropped, making it a good choice for a long-term investment or clumsy vapers.
2.6 Does the VPFIT Insbar II leak?
The Insbar II pods are pre-filled with 2 mL of e-juice. There is no way to access or refill the contents of the pod. This self-contained design protects you from any messy re-filling mishaps. Keeping the mesh coil kept separate from the e-juice until it arrives in your hand and is primed also helps prevent leakage. During the review period, there was no leaking observed from the base or top of the pod.
2.7 Ergonomics
The VPFIT Insbar II mod pod fits comfortably in the palm of your hand. For most people, the vape is going to be about the size of a finger, meaning you can use it pretty discreetly if you don't want to draw attention to yourself.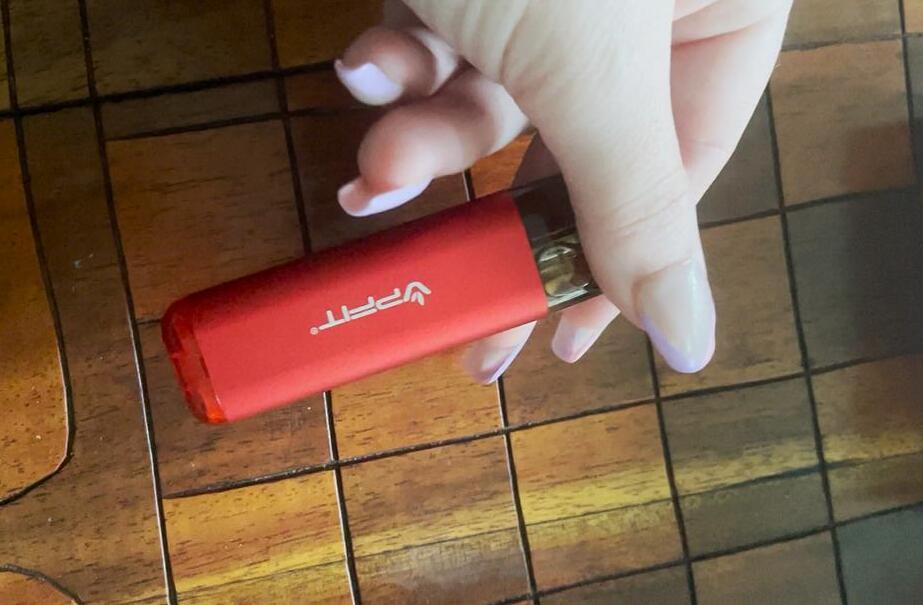 And because it weighs so little, it's hardly noticeable when you want to enjoy long vaping sessions. The taper on the end of the mouthpiece makes it easy to create a good seal with your lips.
3.  Flavors
The majority of mod pods on the market do not come with pre-filled pods. VPFIT is taking advantage of a niche market, targeting consumers that want a long-term device to avoid costly disposable replacements without the fuss of refilling pods, replacing coils, and buying bottles of e-juice.
VPFIT has come up with 10 different flavors; New Zealand Kanji Apple, Black Mamba, Guava Mint Orange, Grapefruit, Lime Orange Elderberry, Watermelon Lemon, Lime Rum, Blueberry Melon, Unicorn Milkshake, and Aloe Mango Berries.
You may notice there are a lot of citrus and fruity flavors, with only one flavor falling outside of that mold – Unicorn Milkshake. While we like how interesting some of these blends are, it would be nice to see a few fan favorites in the bunch and maybe a pure mint flavor and tobacco flavor. Although, it's possible these flavors will change before the product is released to the market. Here's a breakdown of what we thought about each flavor:
New Zealand Kanji Apple – This flavor is definitely a hit. It smells good and tastes delicious. The Kanji apple flavor is sweet and tangy at the same time. Very vapeable and will keep you coming back for more! 5/5
Black Mamba – Blackberry? Blueberry? Elderberry? We're really not sure what kind of berry we are tasting in the Black Mamba flavor, but it strikes a nice balance between sweet and refreshing, so there may also be some kind of melon or apple mixed in there. Overall a solid flavor but a bit of a mystery. 4/5
Guava Mint Orange – The reason we said it would be nice to have a pure mint flavor is because of this flavor right here. The tropical guava and juicy orange are the stars of the show, with minor hints of mint on the backend. The flavor is still quite refreshing, but the mint gets lost in the blend, and we wish it were more pronounced. 3/5
Lime Orange Elderberry – This is a masterful blend. It's hard to separate out each individual flavor, and the bitter lime, sweet orange, and tangy elderberry all come through on the exhale. You will definitely want to give this flavor a try, we think its the best in the bunch. 5/5
Grapefruit – This flavor says grapefruit, so you'd think it would be a tangy grapefruit flavor. Yet we get more grape than grapefruit. I guess if you like tangy grape flavors, this would be a good pickup, but it's more misleading than it should be. 2/5
Watermelon Lemon – Mmmm, the juicy sweet watermelon and tangy lemon are perfectly paired together in this blend. The lemon is more pronounced, but the watermelon is there to tone down the sour so you can truly enjoy the lemon flavor without it being overpowered. 5/5
Lime Rum – This flavor is very unique and has quite a zing from the lime. We anticipate that this blend will be pretty popular, thanks to the subtle sweetness of the rum, a flavor that we've never seen before. The lime adds a sour note that compliments the rum well and also really makes you feel like you are enjoying a mixed drink. 4/5
Blueberry Melon – This flavor smells like blueberries, but the melon flavor is way more prominent. We can't tell exactly what kind of melon is in there, although it gives this flavor a very clean and refreshing hit. We think the blueberry is there to add a touch of sweetness. 4/5
Unicorn Milkshake – Unicorn Milkshake has a non-descript fruity flavor that we can't pin down. There may be some strawberries and other tropical fruits mixed in there. On the exhale, the creaminess comes through, so each puff ends in a smooth pleasing way. 4/5
Aloe Mango Berries – The complexity of Aloe Mango Berries is a nice surprise. All three of the flavors are well-represented. You get a little Berries on the front end, followed by Mango and Aloe. It has a gentle sweetness and is overall quite yummy. 5/5
4. Performance
While the airflow cannot be adjusted, it's been designed to hit a pretty good middle ground, a sort of restricted MTL or mouth-to-lung draw. This means each hit has enough power behind it to be satisfying without being too intense. An MTL draw is also ideal for new vapers because it most closely mimics cigarette vaping, meaning the Insbar II can help keep newbies from returning to cigarettes.
The coil has a great resistance, 1.2-ohms, so the deep hits are warm but never hot. The draw activation is highly sensitive and consistent, so it takes only the smallest inhale to activate the coil and give you a mini hit.
As for vapor production, the Insbar II is a heavyweight compared to similar devices. We were super impressed by the huge thick clouds that came from the Insbar II. If you are a cloud chaser, you will definitely enjoy puffing and seeing those voluminous clouds.
5. Ease of Use
There's one important rule to remember when using this device. All pods come with the 1.2-ohm mesh coil protruding from the base. You need to push the coil all the way into the base and wait 5 minutes before you start puffing. This ensures that the coil is primed and ready to go. If you skip this step, you might get a rather unenjoyable dry hit.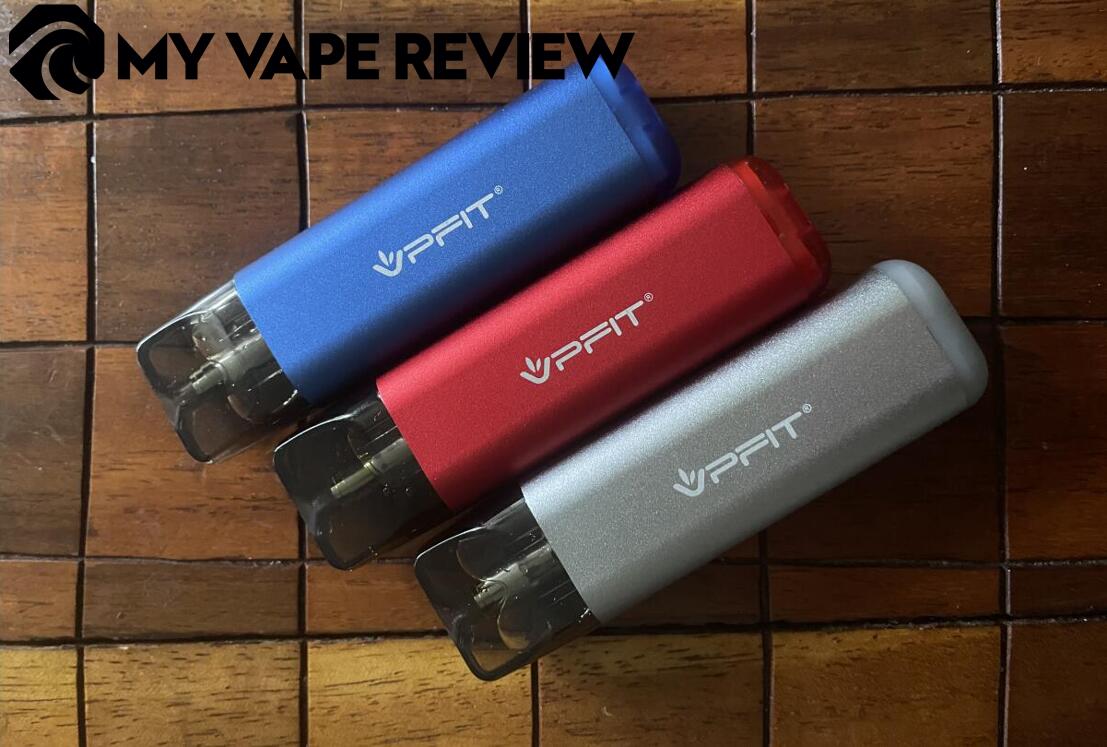 If you can do that, then you will find the VPFIT Insbar II a breeze to use.
6. Price
VPFIT has not officially released the Insbar II yet (as of early August 2023), so we do not have any concrete pricing information we can share. We'll have to wait and see if the Insbar II will be priced competitively or if it will be released in a larger kit.
Currently, it seems that the mod is going to be sold separately from the pods, which may lead to confused consumers who might purchase the device without realizing it doesn't come with any pods. Hopefully, VPFIT will settle on a good price and find a good marketing strategy to sell the pods and battery together.
7. Verdict
The VPFIT Insbar II is a testament to thoughtful design. Its unique atomizer pods, with the separation of e-liquid and heating coil, showcase a commitment to quality and longevity. The device's sleek and minimalistic design is not only aesthetically pleasing but also ergonomically sound, ensuring a comfortable and discreet vaping experience.
The diverse flavor offerings, though predominantly fruity, cater to a wide range of palates. While some flavors truly shine, there's room for improvement in terms of variety. And the performance of the Insbar II is commendable, with impressive vapor production that will appeal to cloud chasers. Ease of use is a significant advantage, with just a simple priming process needed before fuss-free vaping can begin.
While the official pricing remains under wraps, we hope VPFIT will offer a competitive price point and perhaps consider bundling options for a more streamlined purchasing experience.
Overall, the VPFIT Insbar II is a promising device that offers a blend of style, performance, and convenience. Whether you're a newbie looking for a cigarette alternative or a seasoned vaper seeking a compact yet powerful device, the Insbar II is worth serious consideration.