Effortlessly stylish and with, let's face it, a pretty clever name, Esco Bars are becoming a popular addition to the disposable vape shelves. Perfect for newbie vapers as well as those looking for a convenient solution for vaping on the move, Esco Bars are certainly not only appealing to look at with their distinctive colors, but also impressively long-lasting, with each one giving up to 2500 puffs of great flavor.
After days of taste-testing on the popular Esco Bars, our expert team has rounded up the best Esco Bar flavors to the 10 below. We'll also talk about the design and performance of Esco Bars, to help you weigh this device against its rivals like Elf Bars and Geek Bars on the market. Let's kick it off!
Specs
E-Liquid Capacity: 6ml
Battery: 1000mAh not rechargeable
Nicotine Strength: 50mg/ml nic salt
Puff Counts: 2,500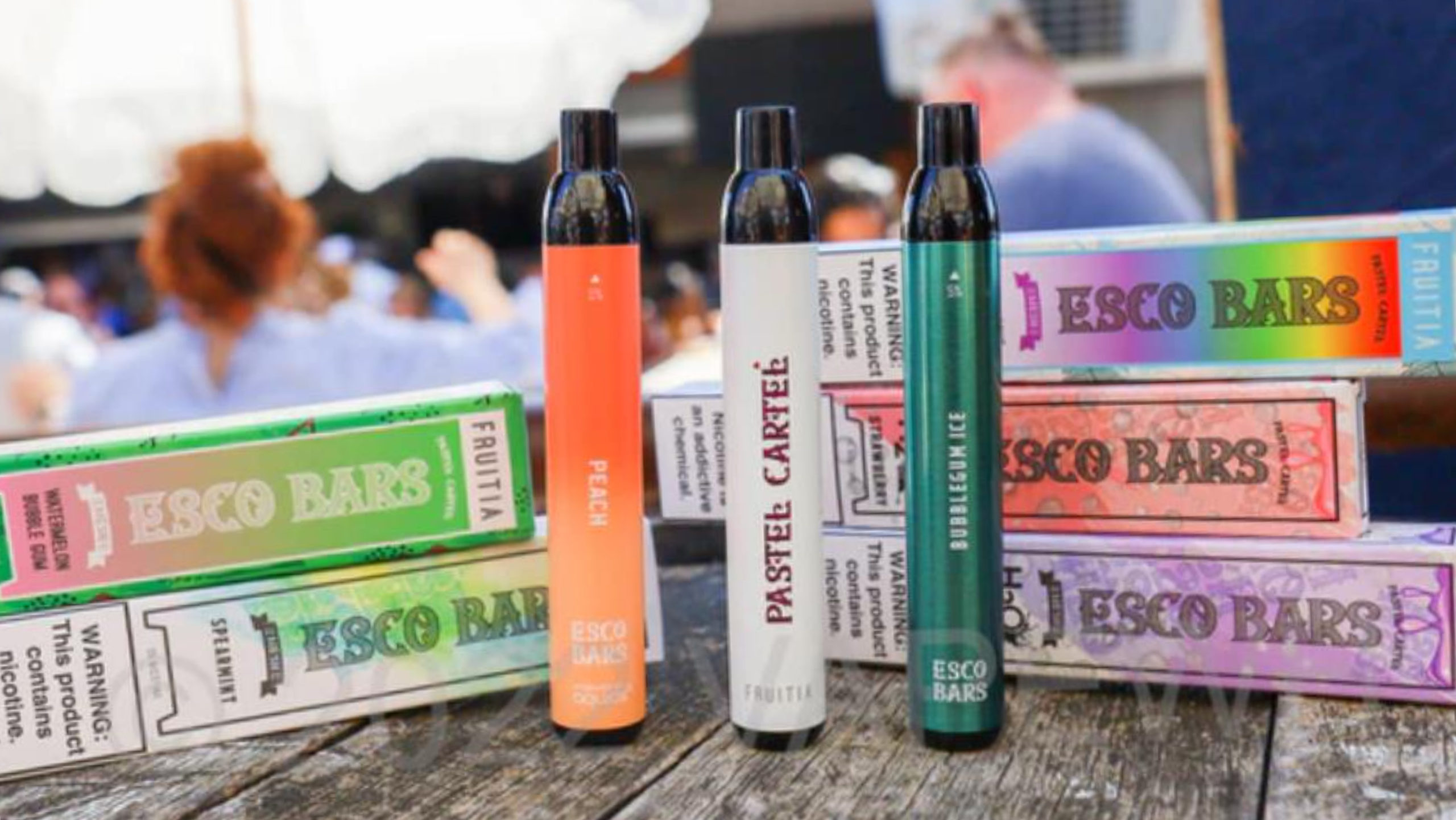 Best Esco Bar Flavors
A top selling point of any disposable vape will always be its flavor. And this is where Esco Bars surpasses lots of its competitors—there's an outstanding range of flavor options. There's something for everyone in the selection, from dessert-inspired tastes to fruity classics, icy tones, and even candy flavors.
A full list of the available flavors is below:
Grape Ice
Mango Ice
Rainbow
Cotton Candy
Orange Limeade
Strawberry Banana
Red Apple
Banana Ice
Blue Raspberry
Bubblegum Ice
Peach Ice
Pink Lemonade
Spearmint
Strawberry Ice
Watermelon Ice
Cool Salted Caramel
Strawberry Cream
Tobacco
Lychee Ice
Blue Razz Cotton Candy
Lemon Drops
Gummy Bear
Clear
As you can see, there's no shortage of options there to satisfy even the most discerning vaper, and there's even a classic tobacco in there too for diehard newcomers!
Let's take a closer look at some of the top flavors: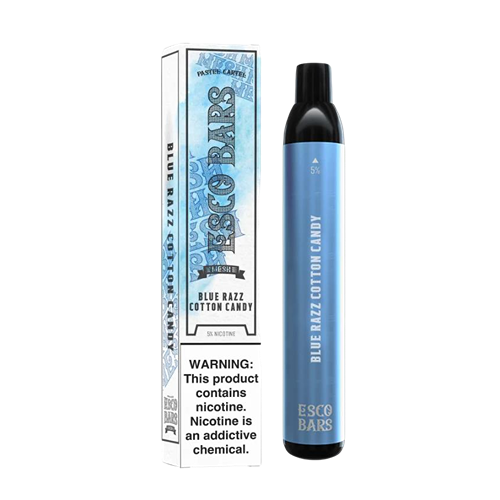 Blue Razz Cotton Candy
 5/5
Sweet, cool, and airy, this flavor blends the tanginess of a blue raspberry slushie with the sweetness of sugary cotton candy in one vape that exudes candy store delight.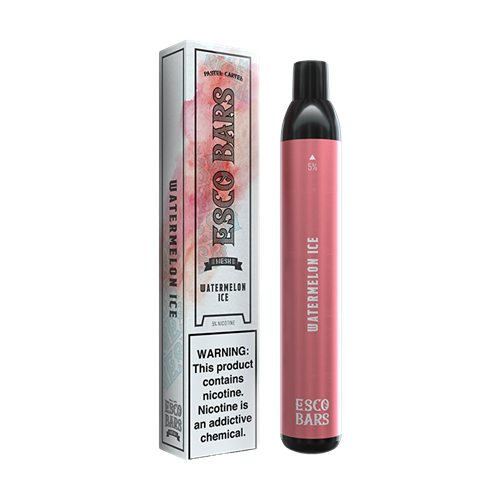 Watermelon Ice
 4.8/5
Light and luscious, this vape is packed with all of the sweetness of watermelon with a hint of icy goodness on the exhale. This flavor really pops on your tongue.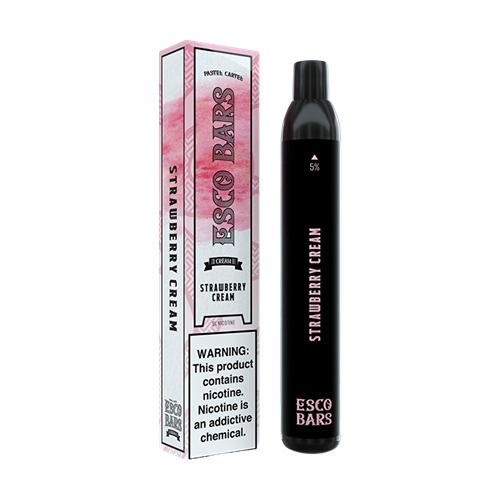 Strawberry Cream
 4.7/5
The perfect choice for dessert fans, this milky flavor has just the right amount of fruity strawberry for a delightful punch.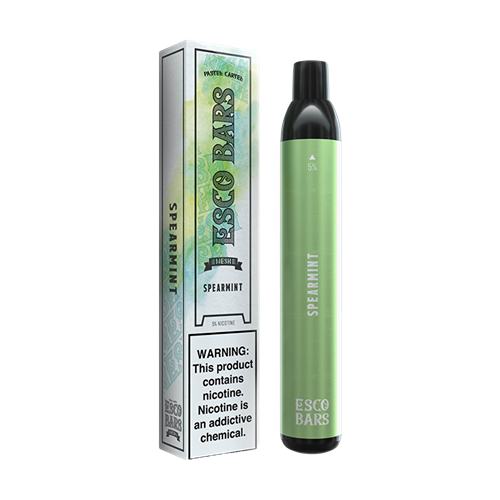 Spearmint
 4.5/5
For fans of menthol vapes, the Esco Bars Spearmint disposable vape is ideal with its icy tones and refreshing flavor.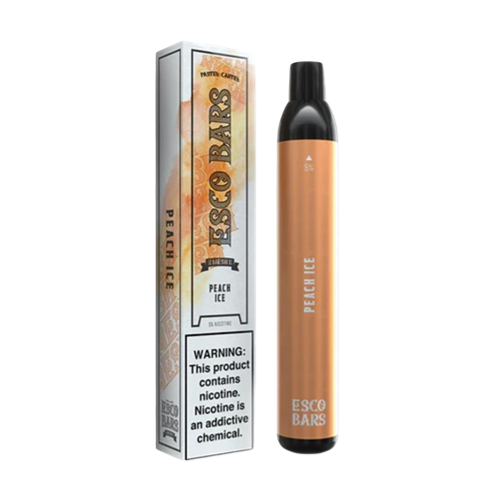 Peach Ice
 4.4/5
The ideal blend of fruit and menthol, this flavor boasts all of the sweetness of juicy peaches on the inhale and an icy blast on the exhale.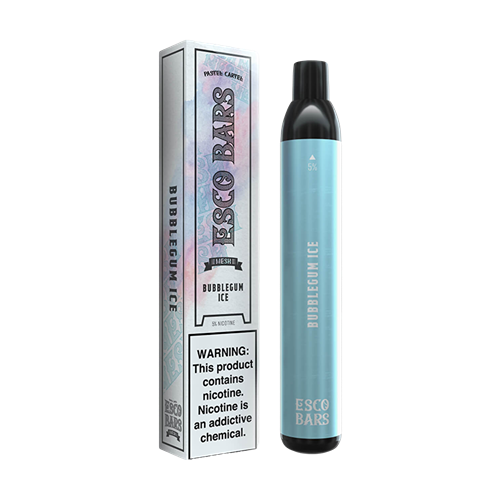 Bubble Gum Ice
 4.3/5
If you love nothing more than blowing bubbles, this vape flavor is sure to tick your boxes. A classic old-school bubble gum taste on the inhale with a blast of menthol on the exhale.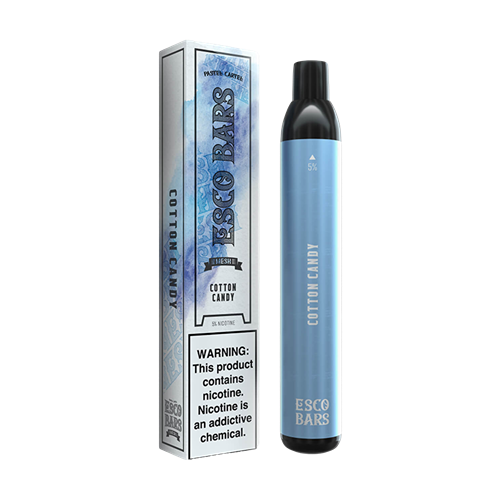 Cotton Candy
 4.2/5
This flavor will take you right back to your childhood with its carnival treat goodness. All of the sugariness of cotton candy right there on your tongue.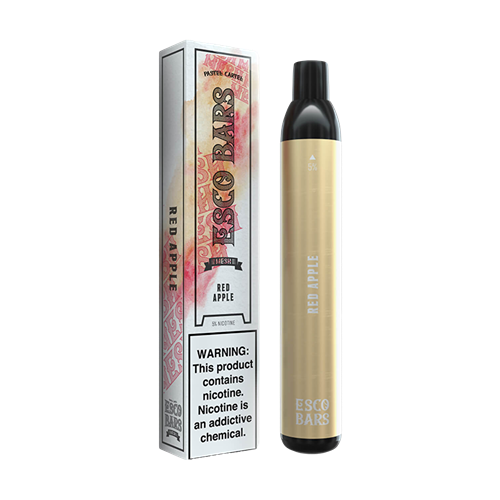 Red Apple
 4.1/5
Unlike many other apple vape flavors that focus on sourness, this is a far sweeter taste that calls to mind biting into a crunchy fruit.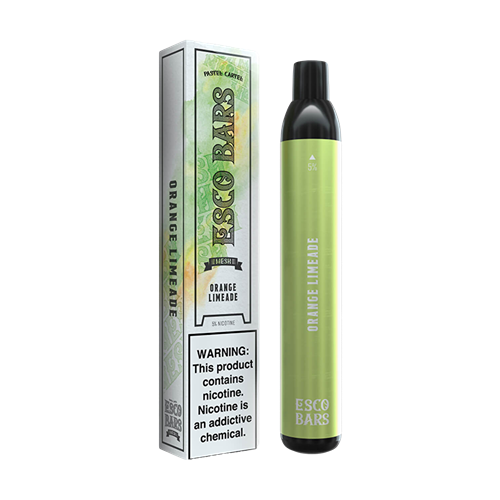 Orange Limeade
 4/5
This flavor is a little unusual, combining the tanginess of lime with the sweet and fruity goodness of orange. It's like drinking your favorite soda.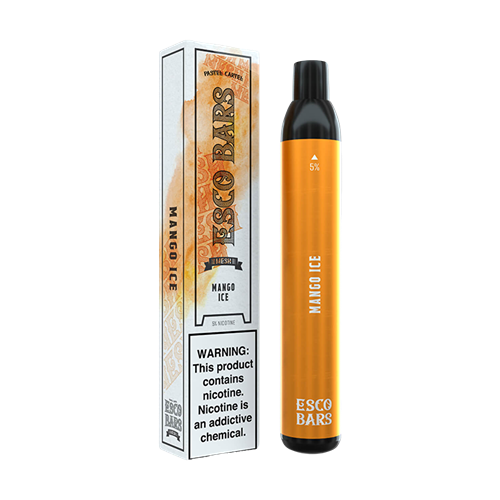 Mango Ice
 4/5
Combining the best of tropical heat with icy cold, this flavor has all of the warmth of a juicy mango on the inhale with a menthol blast to take the edge off.
Design & Quality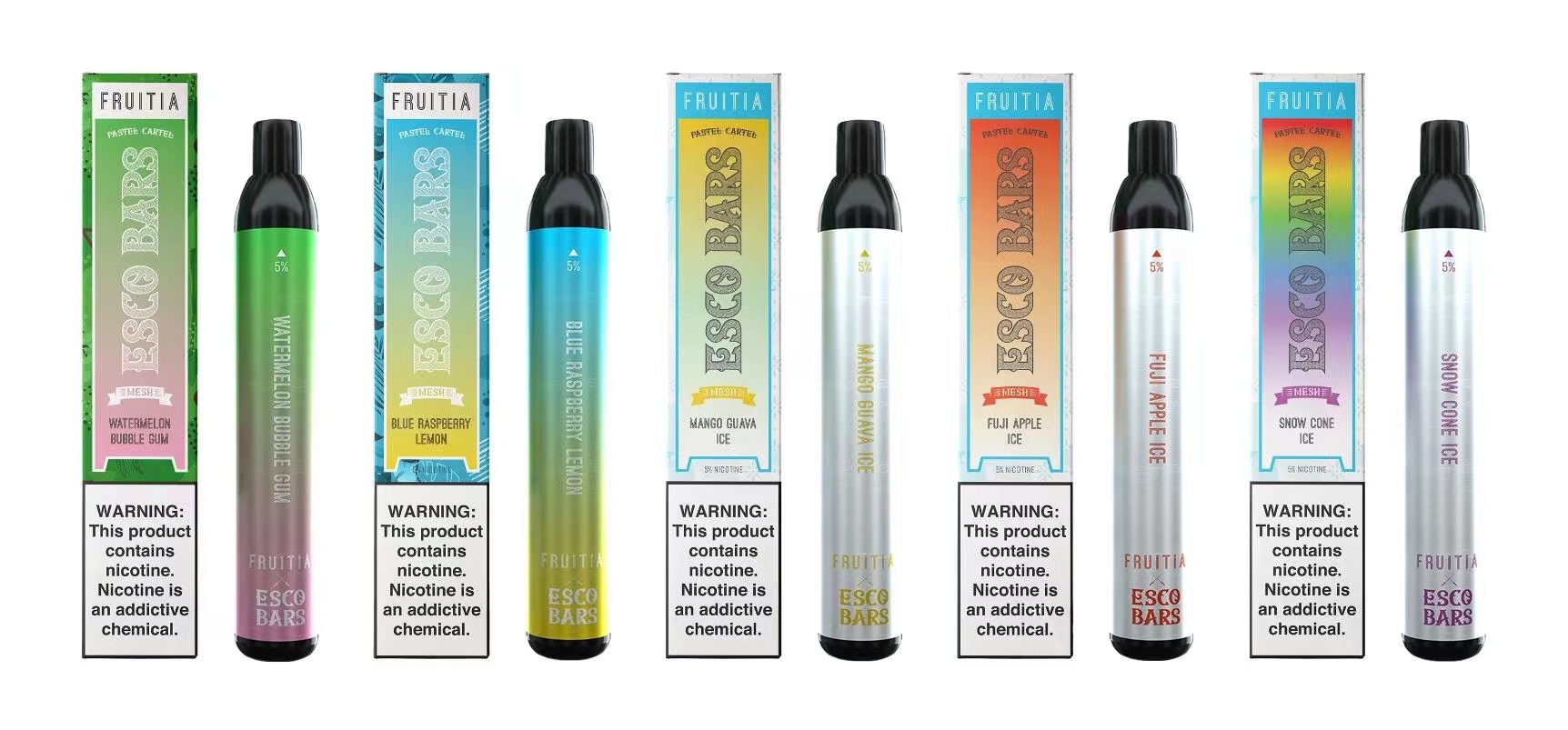 Each Esco Bars vape has a large vape juice capacity of 6ml, and a nicotine strength of 5% – ideal for newcomers to vaping who are trying to ditch their smoking habit.
Well-built and attractive, Esco Bars disposables are robust enough to last for the full duration of its battery life without falling apart or leaking. Compact and easy to hold thanks to the smooth, round design, these vapes can be taken anywhere. Similar in shape to a cigar, these high-quality vapes are stylish and strong.
But we've got to mention that 6ml vape juice might be a sticking point for some vapers who want one-week supply of nicotine hits from a single device, even though the capability of giving 2500 puffs is quite enough for some vapers. During our testing, each Esco Bar lasts for 3-4 days.
Battery
The Esco Bars integrated battery features an impressive 1000mAh capacity. Its long battery life makes sure these vapes can last for as long as 2500 puffs – perfect if you're looking for the ideal vape to take on your travels. There's no recharging function, but with such a lifespan, you won't need one.
Performance
Esco Bars deliver an excellent throat hit paired with a blast of outstanding flavor, and as you'll benefit from as many as 2500 puffs from each vape, you'll have plenty of time to enjoy it to the max.
In terms of cloud production, it's not possible to produce dense clouds like you would from a box mod, but the smooth, immaculate vapor still hits the spot.
Price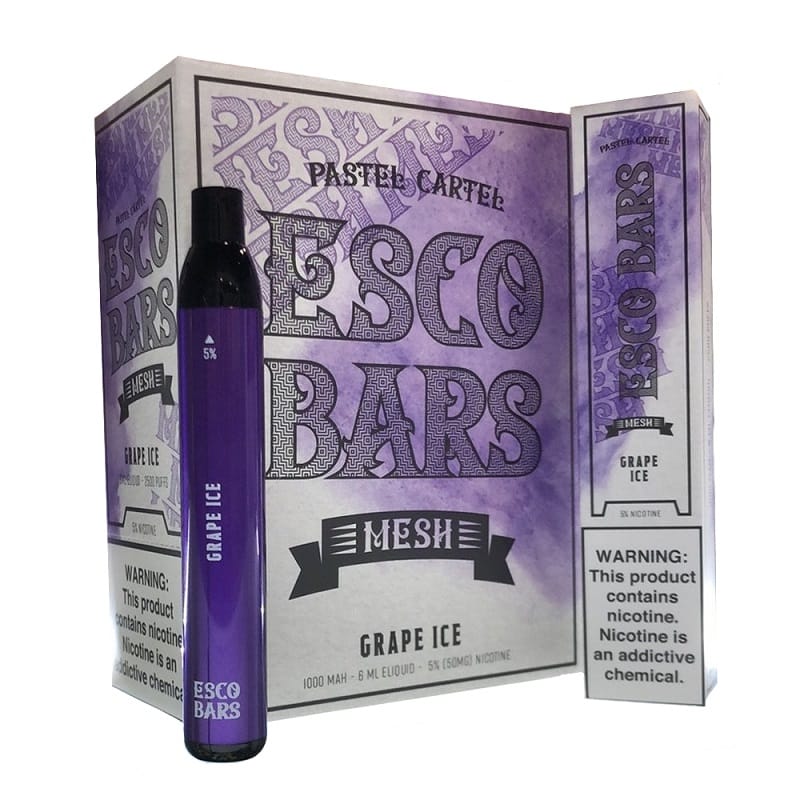 Esco Bars Price: $13.99 at Mi-Pod
Esco Bars disposable vapes offer great value for money. When you compare them with similar products that deliver the same amount of nicotine and come in similar flavors, you'll discover that you get around 1000 more puffs for your money. Of course, you could pay a little more and get even more puffs, so you need to weigh up what you're looking for.
If you don't want to break the bank but still enjoy plenty of great flavor, you'll find that these disposables are an excellent choice for you and, while they're not going to run out so soon that they leave you high and dry without your nicotine hit, they don't last so long that you get bored of the taste.
Verdict
Whether you're quitting your long-lasting cigarette habit and want a delicious but user-friendly vape to help you transition, or you're keen to find a simple and convenient vaping solution for use on the move, we'd say the Esco Bars disposables won't disappoint you.
They're easy to get to grips with, they look effortlessly stylish, and yes, they deliver amazing flavor too. While we're talking about flavor, you'll certainly be spoiled for choice with this range as there is something to satisfy everyone, from basic tobacco right up to fruity, dessert and candy-inspired options.
Thanks to their affordable price tag paired with their long-lasting design of up to 2500 puffs, you're sure to find the Esco Bars disposables a flavorsome, affordable choice that won't let you down when you need a nicotine hit.