The trend of vaping has long since started somewhere around 15 years ago, and exploded in popularity recently. Despite its existence for such a long time, lots of people don't really know about vaping products in-depth except for the fact that it produces flavorful vapors.
Not all vapes is created equal. To step into the world of vaping, the first thing is getting to know different types of vapes out there. With all the details we offer in this guide to level up your knowledge about vaping, you'll surely find it easier to know which types of vapes suit you best.
What is a Vape?
A vape, also called electronic cigarette or e-cig, usually consists of an atomizer, power source, and e-liquid holder. It was initially invented to simulate the traditional smoking. With so many years' evolution, vapes have gained huge popularity all over the world, not only by those who seek to quit smoking.
In spite of a wide selection of vaping products on the market, most of them fall into the following 4 categories: mods, pod mods, pod systems, and disposable vapes.
4 Different Types of Vapes
DISPOSABLE VAPE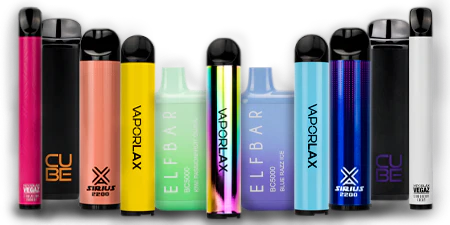 Disposable vape is the easiest-to-use vape among others. It has no screen, no button, no separate pod/tank that needs your installing. Vapers can use it directly by taking drags, and throw them away after running out of the e-liquid inside.
PROS
Ultimate convenience: it's single-use
No set-ups and maintenance needed
Prefilled vape juice with usually 10+ flavors – no need to buy vape juice alone
Pocket size great for on-the-go vaping
Easy draw activation is suitable for anyone who's new to vaping
CONS
Can't be refilled
Not environmental-friendly
Airflow, power, and coil resistance are fixed
Flavors are decided by brands (not as flexible as refilling e-juice on your own)
POD SYSTEM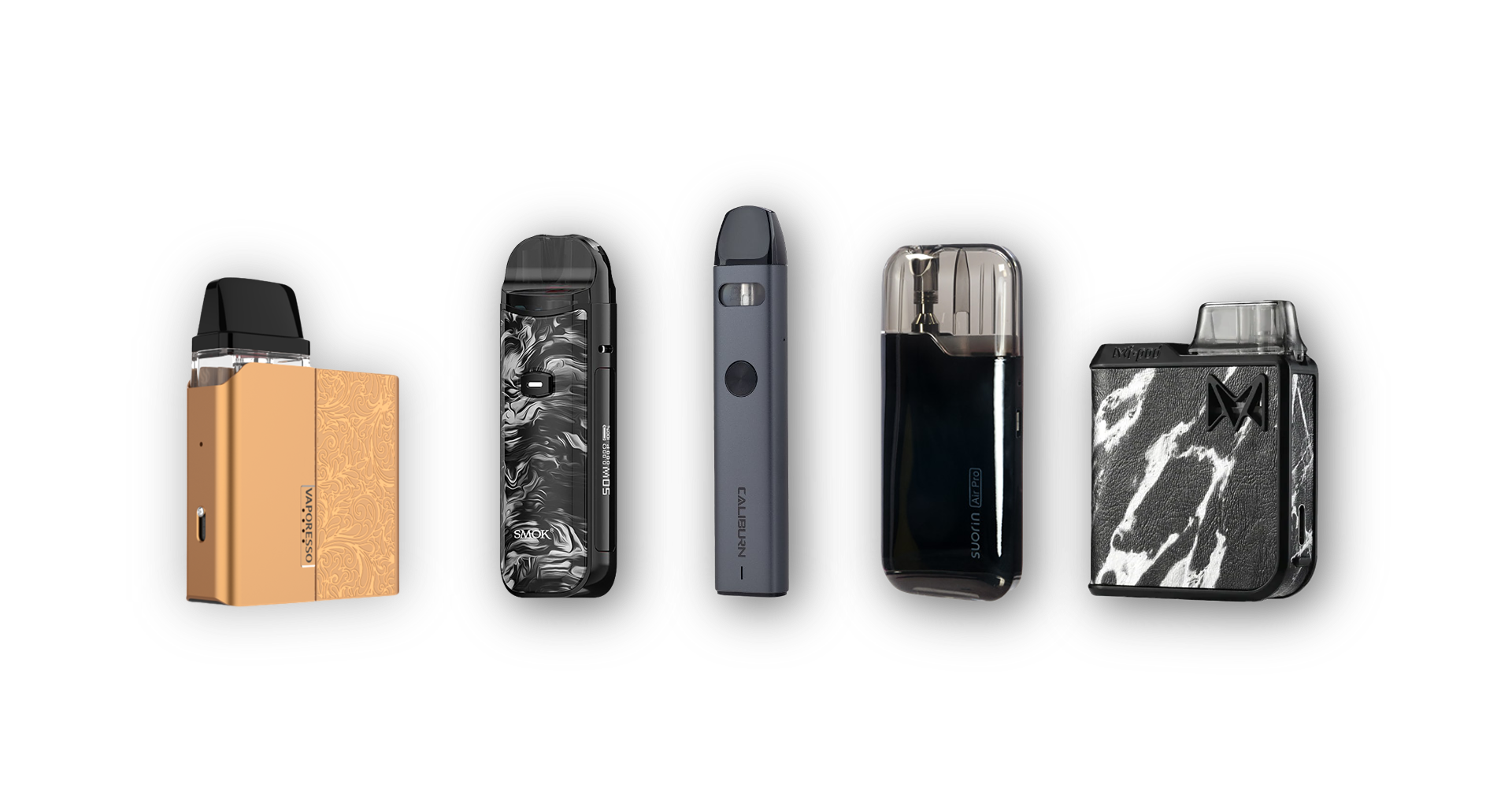 Pod system, like the name suggests, has a pod (atomizer included) and a device (power source). The pod can hold your e-liquid, and it can be refillable or pre-filled. Pod systems don't have display screens, or more specifically a control panel to allow you to flick between modes. Generally they have only one button for firing, and some even have none. That determines how a pod vape is activated, by direct draws or by button.
PROS
Relatively small compared to mod vapes, suitable to carry around
Rechargeable battery
Can choose your preferred e-liquid for refills
Very easy to work with
Its low watt fits best with nic salt e-juice (stronger throat hit, and faster nicotine satisfaction)
CONS
Usually holds up to 2mL to 3mL, and thus needs to refill or replace pods more often
No display screens
Can't put out as high as mods and pod mods
POD MOD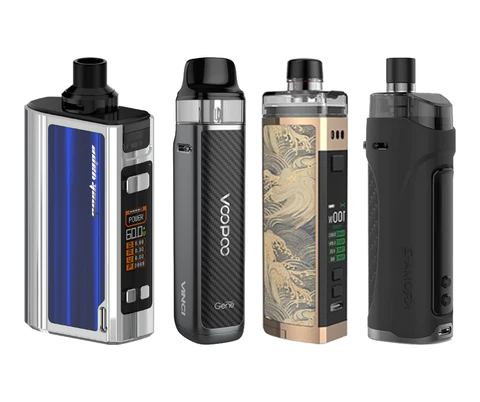 Pod mods consist of pods and mods. Unlike mods, pod mods come with matching pods provided by vape brands and you can only use them. They don't have 510 connector. Pod mods are made for easier use than mods and more functions than pod systems. You don't need to learn how to build your own coil and you can get higher power and more flavors than pod systems.
PROS
Easier to use than mods
More functions than pod systems
Smaller than mods
Built-in rechargeable batteries
No building needed
Sub-ohm vaping (DL vaping)
Pods and mods are sually magnetically connected
CONS
Not as versatile as mods
Require some related knowledge before using
Not as powerful as mods
Can only use the compatible pod
VAPE MOD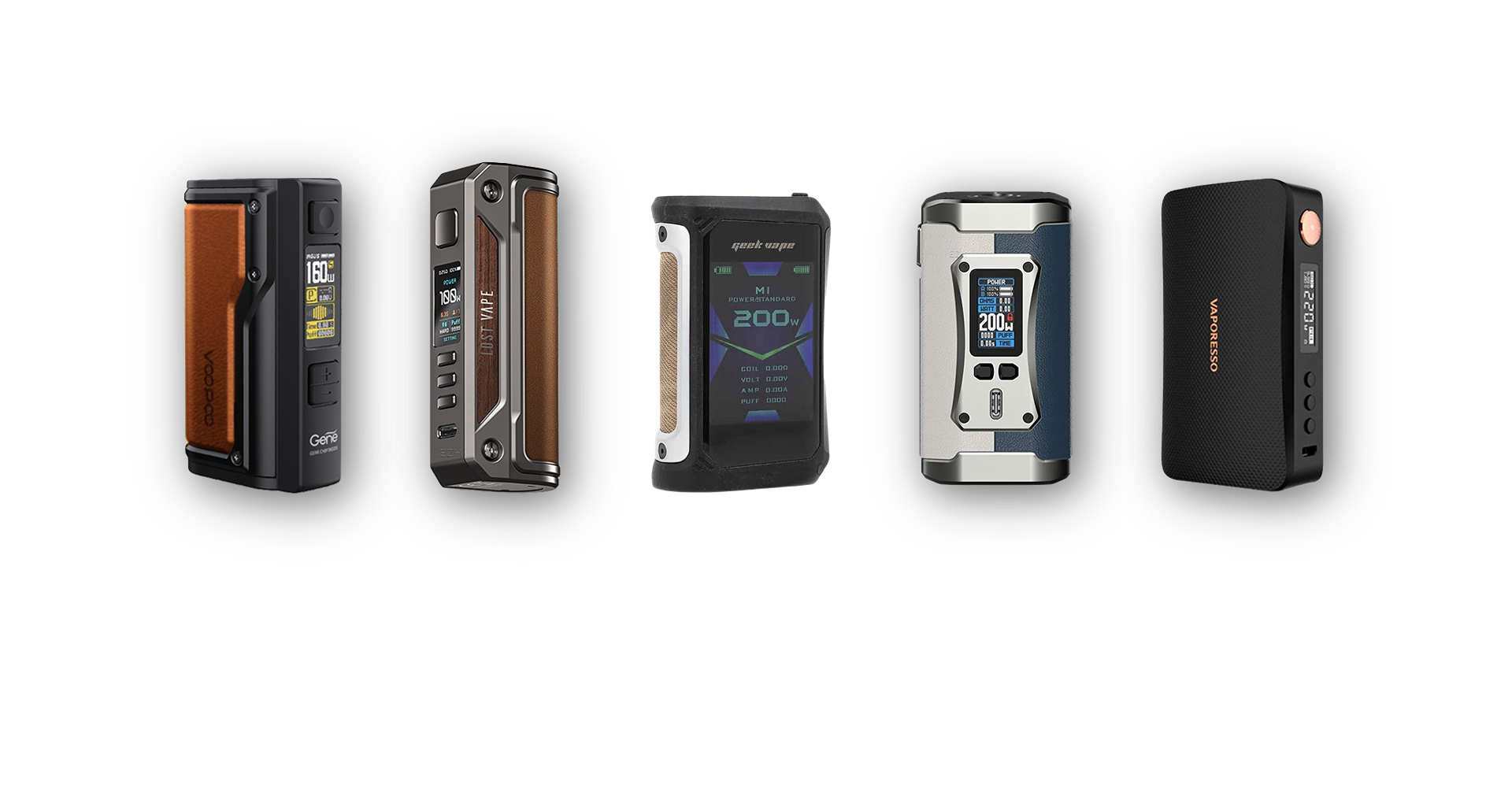 Vape mods are the most complicated, yet functional vapes. Users are allowed to customize every parameter to their liking from coil, airflow and working modes. Usually, a mod comes with an universal 510 connector to fit different atomizers, some of which are rebuildable so users can build whatever coils as they would love to.
Also, mods support higher output power than any other types of vapes to produce a maximum of clouds. You will learn how to use them if you spend time exploring! And there'll be so much fun.
PROS
Fully-featured functions, such as VW, temperature control and bypass
Enormous clouds, and you can do many vape tricks with it
Wide wattage range
Able to be used with various tanks, including RBAs (Rebuildable Atomizer) for DIY fun
Sub-ohm vaping (DL vaping)
Fully-adjustable airflow
CONS
Larger and heavier than other types of vapes
External batteries needed
Require some related knowledge before using
Buy the Right Types of Vapes
Follows are a couple of most important factors consumers would weigh against each other when buying a vape. Check them out—you'll find actually all different types of vapes have their special edges over others, meaning there isn't a definite "right vape." That means you need to think all factors through, know your preference, and make the final decision.
Different people have different flavor preferences. Mods, pod mods, and open-system pods don't have pre-filled e-liquid. Disposable vapes and closed-system pods are pre-filled with vape juice. Therefore, the flavors of vapes without pre-filled e-liquid largely depend on the e-liquid you use (besides the influence of pods/cartridges/tanks), which also means you can have larger scale of choices on flavors. For pre-filled vapes, if you don't know which brand and products have the best flavors, you can check others' comments or vape reviews before you purchase.
Mods > Pod Mods > Pod System > Disposable Vapes
If you fancy big clouds, you can choose mod vapes. Mods with sub-ohm coils will give you nice and large vapor vaping experiences. There are several factors will affect your vapor experience: coil resistance (<1.0Ω), airflow, and VG: PG ratio (7:3) of e-liquid.
Mods > Pod Mods > Pod System > Disposable Vapes
Generally, if you are new to vaping, we suggest you start with disposable vapes or pod systems. Using a disposable vape doesn't require you to know anything, just draw from the mouthpiece directly, you can get the flavor and vapor.
Other types of vapes, due to their larger body, can hold more functions and technology in them.
On the first glimpse, the disposable vape is the cheapest vape. A 2mL disposable vape usually is sold at £4.99 or US$5.99 (sometimes cheaper at discount), such as Elfbar and Geek Bar. 2mL e-liquid can last about 500puffs for an average use. If you are an avid vaper, one 2mL disposable vape can last about only 2 days.
An open-system pod is sold at around £12-25. A bottle of 10mL nic salt vape juice's price is about £3-4. The pod capacity of vape in UK is restricted at 2mL. One bottle of 10mL e-juice can last 5 refills. Besides, a pack of 2 replacement pods is sold from £2-4. For example, Uwell Caliburn G2 Replacement pod's price is £3.99 and the replacement coils (4 pieces in one pack)'s price is £9.99.
It's quite tricky to say one vape is cheaper or more expensive than the others. It is true that buying pod systems/mods are much more costly than disposable vapes. However, the following expense on e-liquid, pods/tanks, and coils are cheaper than continuously buying disposable vapes since a device can last for years.
Disposable Vapes > Pod Systems > Pod Mods > Mods
Without any doubts, the compact, puff-and-go disposable vapes are the easiest vapes.
Disposable Vapes > Pod Systems > Pod Mods > Mods
For portability, smaller vapes have higher portability. With smaller batteries and less functions, the device will be lighter and easier to carry around.
For example, if you choose a mod for days of outdoor vaping, you will need to carry extra necessities with you, such as a bottle of e-liquid, external 18650/21700/20700 batteries, charging cable, and building tools.
For disposable vapes, if you don't like the flavor, it's gonna be a waste of money. For prefilled pod systems, the situation is the same. For refillable vapes, if you don't like the flavor, you can empty your pods/tanks, and fill in the one you like. However, the bottle of e-liquid will be wasted. We have several suggestions for your unwanted e-liquid. 1. If you have vaper friends, you can re-sell it or give it to them. 2. Dispose the e-liquid properly and recycle the bottle.
Using RDAs (rebuildable dripping atomizers) can somehow let you change your flavor quickly. To vape through an RDA, you need to continuously drip e-liquid to your coil. One dripping allows you to have several puffs. Therefore, in this context, you can change your flavors often compared to other vapes that you have to finish the whole pod/tank to have a new flavor.
To Recap
Have you found the info we organized helpful? If not, don't worry. Everything starts with the first try. You will get so much fun exploring the vapes. We also believe you can throw away your cigarettes shortly.