Intro
In terms of developing evolutionary things, Lost Vape always stays one step ahead of others. The brand has been in the vanguard of launching impressive mod vapes, and released another rugged beast of box mod not long ago—Lost Vape Centaurus Quest BF mod.
Centaurus Quest BF offers an all-in-one solution for drip-style and squonk-style RDA enthusiasts, as it comes with two 9.5mL bottles, one squizable and another featuring a thin mouth for dripping. That gives us a maximum of customization in choosing whatever RDA styles we like. With an output range from 5W to 100W, the squonk mod allows us to pack in any of the three different batteries, that is 21700, 20700 and 18650.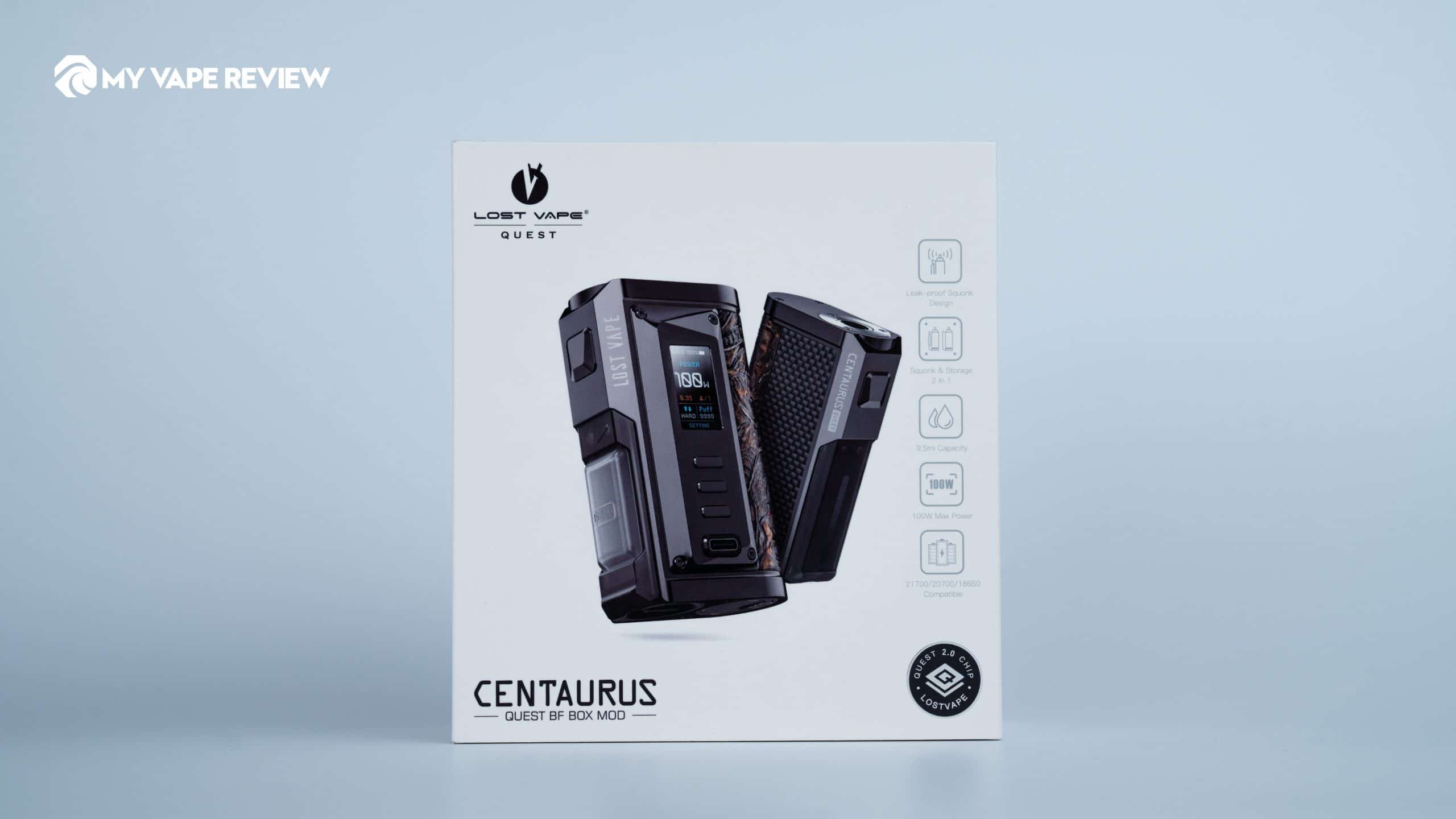 After days of testing on the Lost Vape Centaurus Quest BF mod, we've sorted through all the pros and cons of the mod. In our review, we also highlight aspects we like in green, and those we don't in red, to make your reading easier. Let's kick it off!
Product Info
Performance – 8.5
Most of the time we ran the Centaurus Quest BF on a constant 80W under the power mode, paired with the Aivape Ohana RDA in dual 0.12Ω coils we built. The vape liquid used was Dinner Lady Flip Flop Lychee in 3mg strength. Overall the vapors released authentic flavors, no matter it's about the soothing sweetness or the icy effect. It also fit well with our RDA, producing clean and dense clouds in a class of its own.
Looking from the result of our tests, 80W is probably the most ideal upper limit, although the mod allows for 20W higher output. Once we further turned it up, the drop-off in performance became inevitable. The bummer here is the single-cell design of Centaurus Quest BF, which puts a shackle on itself to power more intense sub-ohm vaping, yet we have to admit that it's lighter than dual battery mods. The deficiency was especially evident when we placed two 0.12Ω coils at the top of the mod.

Function – 9
The Lost Vape Centaurus Quest BF mod has a rather comprehensive feature set, with a total of five modes included: power, voltage, bypass, temperature control (TC) and variable power curve (VPC). That covers almost all the standard modes we expect to see in a mod vape.
Whichever mode we switched the device to, it gave us a quick ramp-up. In the testing, we found no delay between we pressing the button and getting clouds of vapors. We could tell Lost Vape have put lots of efforts to refine its Quest 2.0 chipset to make sure such an immediate responsiveness.
Power Mode
Even if with the most basic power mode, Lost Vape Centaurus BF gives it a new twist. It specially adds three sub-options—soft, normal and hard, to the power mode, so we can choose a preferred level of hit. We cycled through the three output strengths to see whether they really work out. The result, sort of out of my expectation, is satisfying, as we found an obvious increment in the flavor intensity when the mod climbed from "soft" to "hard." Meanwhile the sensation in the throat built up a bit as well. While the sub-options have little impacts on how big clouds we got, which only changed notably when we pushed the output power lower or higher.
VPC Mode
VPC mode required us to set five values as our desired output powers when we initially launched it. Next, Centaurus BF's chip will save the values and execute them in sequence on a loop. Generally, an ideal sequence is to rank them from high to low, thus the mod can tail off at a lower watt to keep our coils from burning.
VPC sounds like an advanced setup but is not as complicated as beginners may imagine. Geekvape is another manufacturer keen on loading VPC onto products, like its Aegis Mini 2 and Obelisk 65FC. This mode honestly isn't a necessity for me, as I always consciously leave an interval between the draws. But it could be a remedy for those who're used to chain vaping and burning coils like crazy.
Design & Build Quality – 8.5
Appearance – 9
Lost Vape Centaurus Quest BF mod is a sizeable, stout device. The shell is comprised of a trio of materials from synthetic leather to carbon fiber and zinc alloy, complicated while presenting an artistic vibe. The fusion of the three is intelligent. The most striking section is the leather, which is adorned with deluxe colorways (or patterns) to add a great deal of visual pops. The device feels of quality in hand, and has six colors on offer. The one we got is Gunmetal Ukrian.
The mod places a slightly elevated panel on its front face to accommodate its screen, buttons as well as a Type-C charging port. As the room in the panel is limited, Lost Vape separately places the bigger cube-shaped fire button on the side face, just above where we lock the e-liquid bottles in. That rather makes button activation more comfortable, for me at least, as the fire key now stands at exactly where I usually rest my fingers on.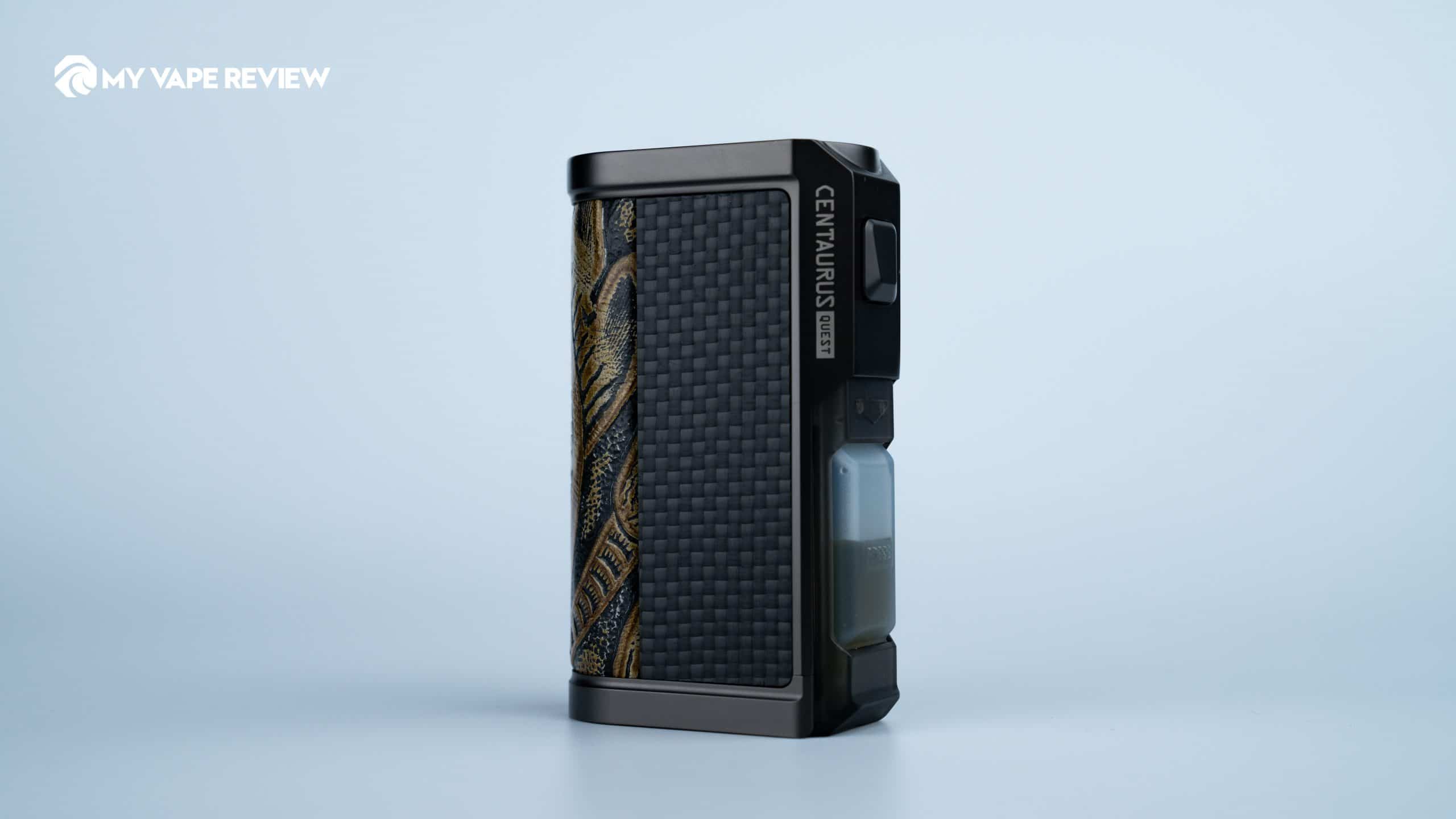 There's not much to say about the top of the mod—only a 510 connector there enables us to attach whatever atomizers we love to it. At the base lie two circles, one bigger another smaller. The smaller one is actually the bottom cap over the fill port of the liquid bottle, while the bigger circle is the Lost Vape Centaurus mod's battery door.
Bottles – 10
Specifically, we can use the Lost Vape Centaurus Quest BF mod to do either squonking or dripping vaping. There're two visible rubber bottles, both in 9.5mL, coming with the mod in the kit. One of them is squeezable, with a sign saying "PRESS" printed on the larger face. When we press the bottle as indicated, it immediately feeds the juice stored inside to the atomizer sitting above. The process is what we usually dub as "squonking."
The other bottle is geared for vapers who prefer the dripping style. Lost Vape says it's a pure liquid storage bottle, but it's actually designed to be able to double as a dripping tool. This bottle is a mini-sized e-liquid bottle. It has the same narrow tip sitting at the top, and the same rubber cap covering the tip. We know it happens when we only craze for the best flavors regardless of how many hassles there could be, then dripping vaping is the way to go.
Installing the two stuff is easy-breezy. Just put the bottle into the ditch and slide it upwards, then the bottle and mod can interlock with a tight seal. The sealing is good indeed. At least when we moved and shook the device as how we normally do, not too gently nor too violently, the two sections remained a snug fit. We didn't run into severe leakage issues with the Lost Vape Centaurus Quest BF mod, but some small drops of liquid would occasionally make their way down to the mod through the hole to which we plug the bottles.
Battery – 7
As the Lost Vape Centaurus Quest BF mod has to pack a squonk bottle in, it's powered by only one battery. It seems though Lost Vape strives to make up for the single-cell shortcoming by improving the battery compatibility. It expands the battery holder a tad, so it can house a 21700 battery in. That being so, smaller 20700 and 18650 batteries could also work, as long as attached to an adapter. It's good that the mod kit includes an 18650 adapter in, so don't bother to buy one if you plan to use this more common type of vaping battery.
Granted, supporting a larger 21700 battery is a good idea, but it doesn't really offset the absence of a second battery. When we put out at 50W or so with the BF mod, 21700 battery presented no issue. However, it turned out to fall short when the power rose up to 100W—there's a notable drop-off in the vapor thickness and flavor. Even though 21700 provides more power and runtime than an 18650 on average, it can't compete with dual 18650 anyways.
Ease of Use – 7
The user manual of Lost Vape Centaurus Quest BF mod uses clear-cut language to guide our operations, which is very brilliant. Also, its screen allows for adjustments in the brightness with 9 varying degrees. Basically the entire brightness range can meet our needs in all possible environments. We can also choose different colors for the navigation menu.
While for a device in this size, its screen seems to be too small. And we found one more flop: there's no shortcut to watt adjustments in the Centaurus Quest BF mod. Typically, a vape would allow us to ramp up or down the wattage by pressing a button once. But it's not so with this vape. We have to take at least two steps to change the power, and more often three.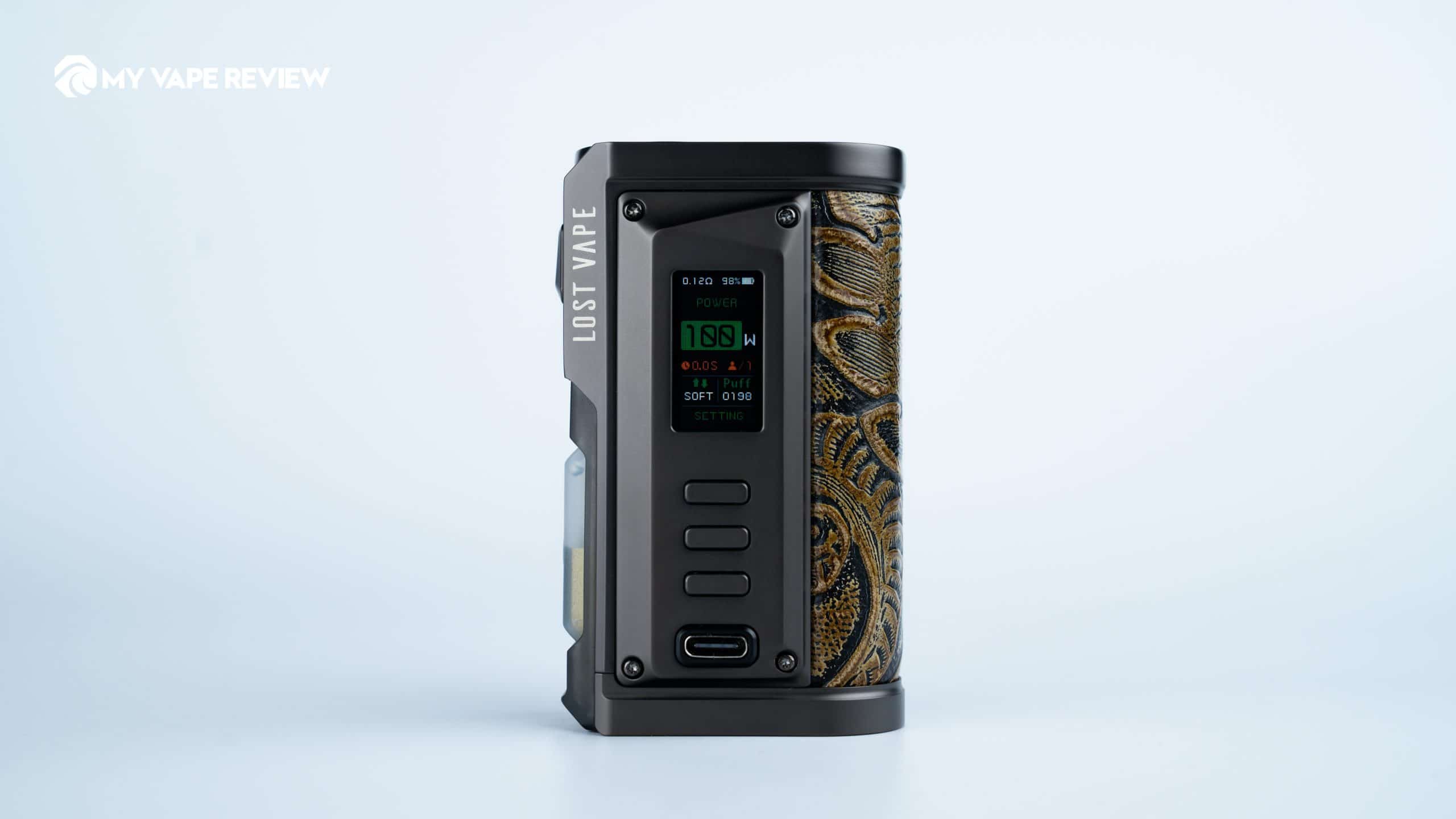 We love the two bottles in the kit. They don't require many efforts to install or remove off, and make things so simple when we want to swap between squonking and dripping styles. The only hassle disappointing us is the refilling. Their filling ports both rest at the base, and are covered by a fairly thin screw cap. We have to unscrew the cap off, put the cap wrapped with e-liquid aside, and finally start to refill. It's almost impossible to keep our fingers not exposed to the juices in the process.
Price – 7
Lost Vape Centaurus Quest BF mod
Compared with most 100W box mods, Centaurus Quest BF comes with an apparently higher price tag. If specification is the only standard by which we determine whether a product is worth its price, maybe the answer for this kit is "you should think twice." With the same budget, you could easily delve into a dual-battery device that can fire up to a much higher power, say the 200W Dovpo Topside squonk mod, which is even three dollars less in the same platform.
However, if you also factor the performance and features in, the device might be worth your investment. It gives you the freedom to switch between squoking and dripping styles with one single kit, and supports a full temperature control suite. It's definitely not an economical product. While it's up to you to decide whether or not it's cost-effective enough.
Verdict
The Lost Vape Centaurus Quest BF box mod is a versatile well-put-together device that gives you large controls over your vaping. It's an all-in-one device compatible with any rebuildable atomizers, and supports both fuss-free squonking and flavorsome dripping styles. However, its single battery and 100W upper limit might look as a sticking point for many vapers.
Have you used the Lost Vape Centaurus Quest BF box mod? If not, do you have interests in giving it a go? Leave your comment below!