Can We Bring Vapes on a Plane?
Packing for an air travel might be hard going at times. I believe all of us have been perplexed by what we can carry to the plane and what we cannot. After a string of struggles with dizzying airline rules on toiletries, power banks and razors, another toughie comes to vapers: can we bring a vape on a plane?
For flights in America, the answer is a 100% YES. Our vapes are allowed by the U.S. federal regulations to fly with a plane. The approval applies to any types of vaping products from mod kits to pod systems.
However, some countries might have introduced stringent limits on e-cigarettes, banning them from being taken to airplanes. If you're heading for a new country, it's always wise to search for relevant regulations in advance.
Quick Guide to Packing Vapes, E-Liquids and Batteries
Although the U.S. federal doesn't forbid us to bring vapes on a plane, careful packing is necessary in any case. That's because vaping products pack in two really tricky stuffs: battery and e-liquid. If you want to go through the airport checkpoint successfully, some proper prep work are essential.

Batteries
Where our batteries should go to depends on their types—internal or external.
If a vaping device runs on external battery and we have to take one or more spare lithium batteries, we should place these batteries in the carry-on luggage. Our pockets will also do.
While if it uses built-in batteries, according to the Transportation Security Administration (TSA), they're allowed to stay in both carry-on and checked baggage. The administration added it recommended passengers put devices with internal batteries in the carry-on though, in fear of any potential risks.
By the way, Type-C chargers are allowed in both carry-on and checked luggage.
More Tips
Switch off devices powered by internal batteries when you're on an aircraft, as firing might be activated by accident otherwise;
For the same reason, when you carry external-battery vapes, remove the batteries off in advance;
Carefully pack the spare batteries to prevent dangers such as short-circuit and fire, such as covering batteries with tapes, or placing them in separate plastic cases to isolate their terminals;
Don't charge vaping devices or batteries on the plane. Although regulations allow us to fly with Type-C chargers, they enforce an explicit ban on charging.
E-Liquids
Before working out how to pack our e-liquid, bear a figure in mind: 3.4 ounces, or 100 ml. That's the premise for the TSA to classify and regulate all sorts of liquids carried to an airplane. Any liquid containers going beyond the 100 ml boundary must be packed in checked bags, while those within the boundary can go in both checked bags and carry-on.
Similarly, if the container that holds our e-liquid is smaller than 100 ml, we can put it anywhere. But it comes with another must-know: if you put the e-liquid in carry-on bag, you're required by the TSA to pack it in a quart-sized liquid bag, together with your other liquids, creams and aerosols.
When the e-liquid bottle is larger than 100 ml, it has to go in the checked luggage then.
More Tips
Buy some small containers to fill your juice in if you want to put your juice in the carry-on but the original container is over 100ml;
Seal the e-liquid bottles carefully to avoid leakage;
If your pod is filled with the maximum of e-juice, the cabin pressure or plane turbulence might make it spill over. It would be better for you to half fill your pod. Or you can just leave it empty and refill the pod after your landing.
Disposable vapes are better options for shorter trips, since you don't need to take e-liquid at all.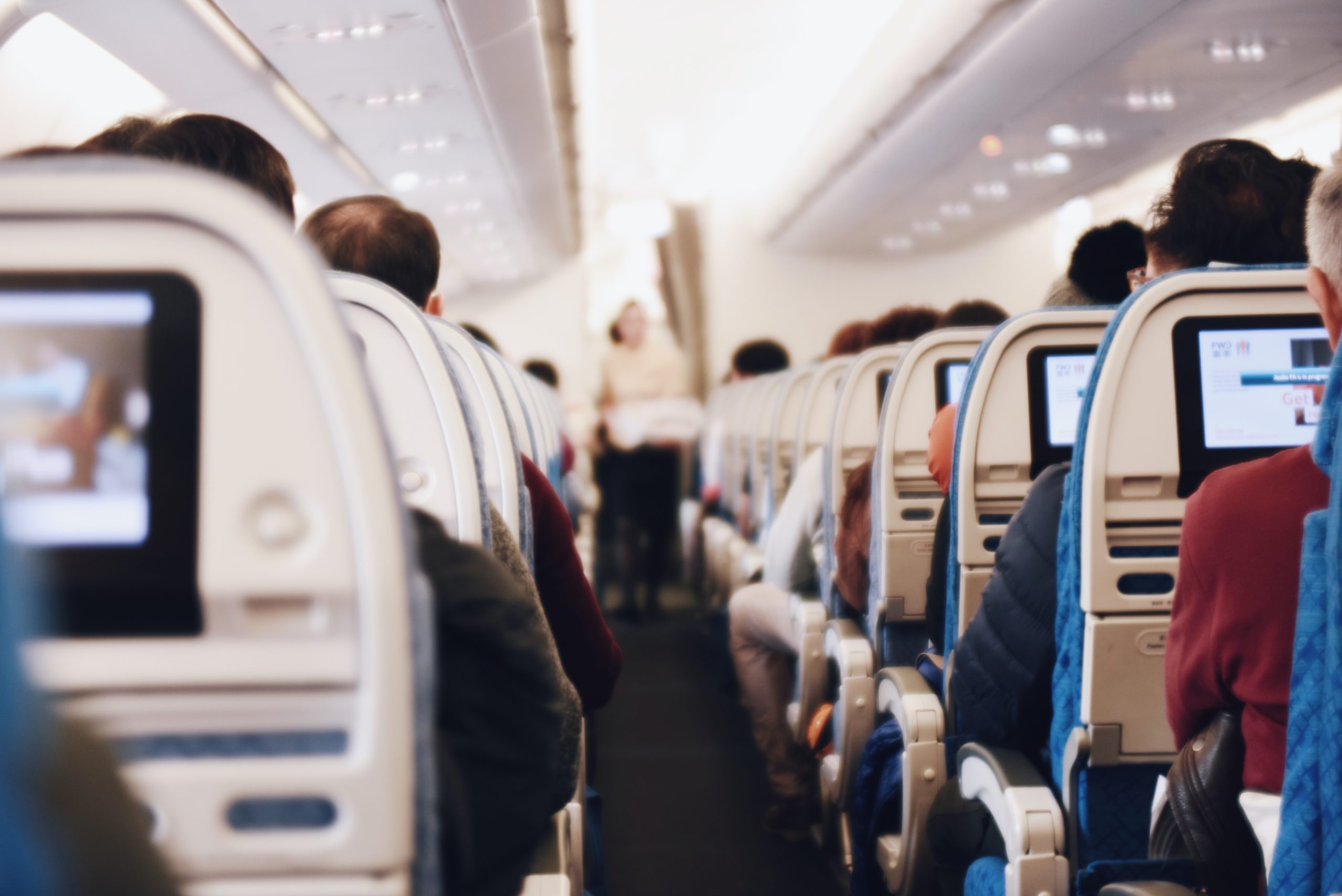 Can You Vape in Airports or on Planes?
Using vapes on commercial planes is prohibited by the U.S. Department of Transportation (DOT). The ban applies to all flights in, to, and from the U.S. One of the main reasons is that the heat from activated vapes could raise the ambient temperature and thus increase the chance of a fire hazard. Hence, don't ever risk in taking a puff on the plane, even if in the restroom. A passenger of the Spirit Airlines was banned for life for stealthily vaping on the plane.
As for vaping in airports, it depends. Some airports have outright bans on e-cigarette use, while others, such as the McCarran International Airport in Las Vegas, designate areas specially for vaping or smoking tobacco. Before your travel, you can browse the official websites of airports you're departing from or arriving at to find out whether smoking/vaping rooms are provided, and where they're located at.
Wish you a joyful and smooth flight!