Excited to introduce you the phenomenal vape manufacturer YOOZ, and its newest YOOZ Mini Eco-Friendly disposable vape kit! This new launch is a disposable kit, offering 1 device and 2 pre-filled pods altogether. When environmental impact becomes a common concern in single-use disposables, we really like the action to bundle three stuff up into one box. It's eco-friendly, economical and certainly more convenient for customers.

By far YOOZ has released eight flavors for this Eco-Friendly kit, and five flavors were sent to us for testing. In this review, you'll find out YOOZ Mini's best and worst flavors rated by our review team. Also as usual, we'll share all the first-hand thoughts on its vapor, design and price.
While this kit is currently available for Philippine vapers only. If you're in other regions, be sure to check our earlier post on the best disposable vapes available worldwide.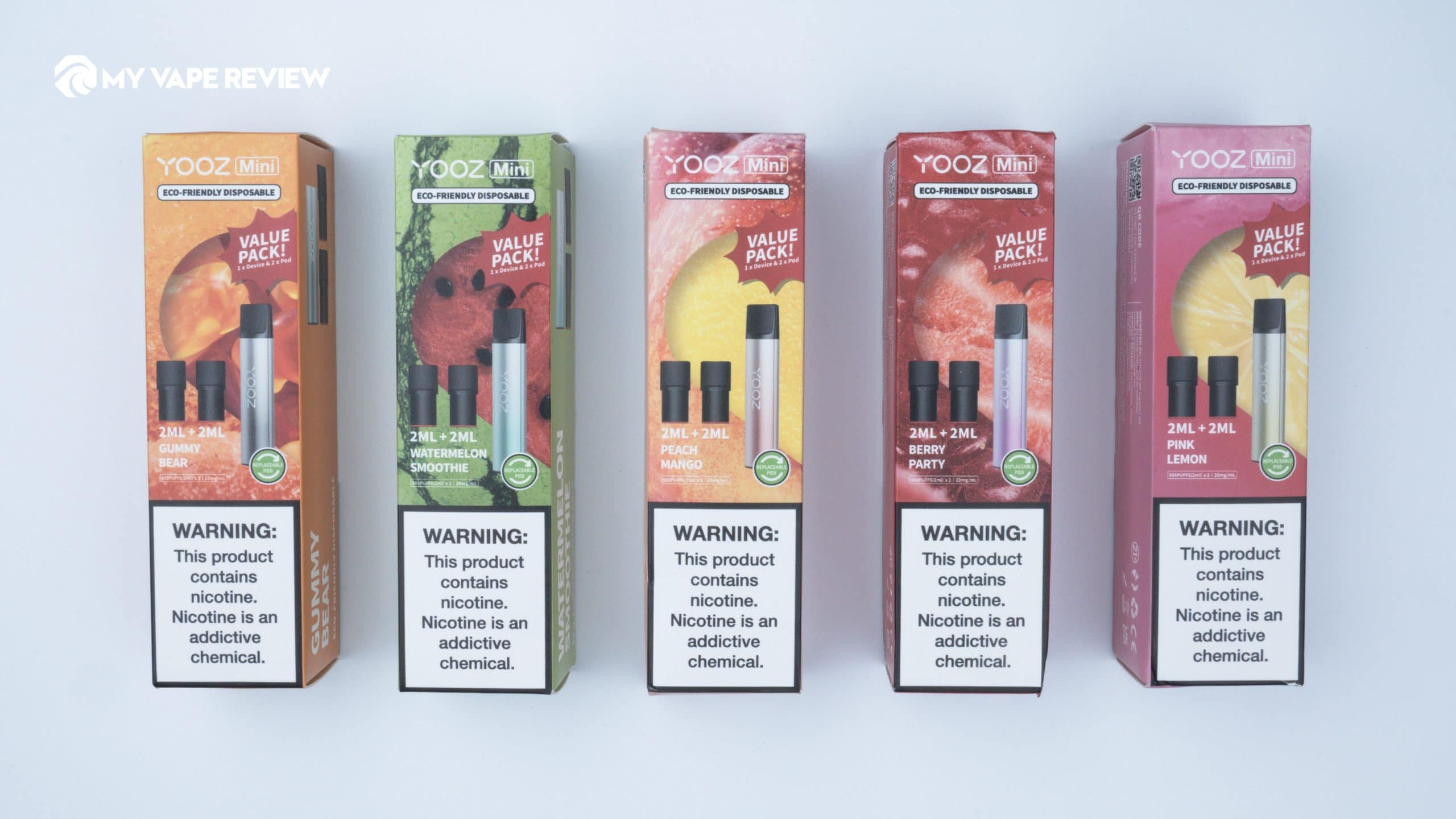 E-Juice Capacity: 2ml
Nicotine Strength: 2%
Puff Counts: 600
Charging Port: Type-C
Replacement Pod (2ml) * 2
Device * 1
Flavors (From Best to Worst)
This one delivers very balanced sweet-and-acid taste comparable to orange-flavored jelly baby. Its sharp, zesty orange aroma went wildly into the mouth on the first drag, and gave a refreshing fruity blast. It's not too sweet, nor too sour; while the flavor intensity is fairly strong. The subtle balance in this flavor is its biggest edge over all others.
A rather refreshing and icy e-liquid you shouldn't miss out. We love it since watermelon keeps shining through like we're having watermelon slices chilled in the fridge. And some rich cream comes to expand the flavor profile.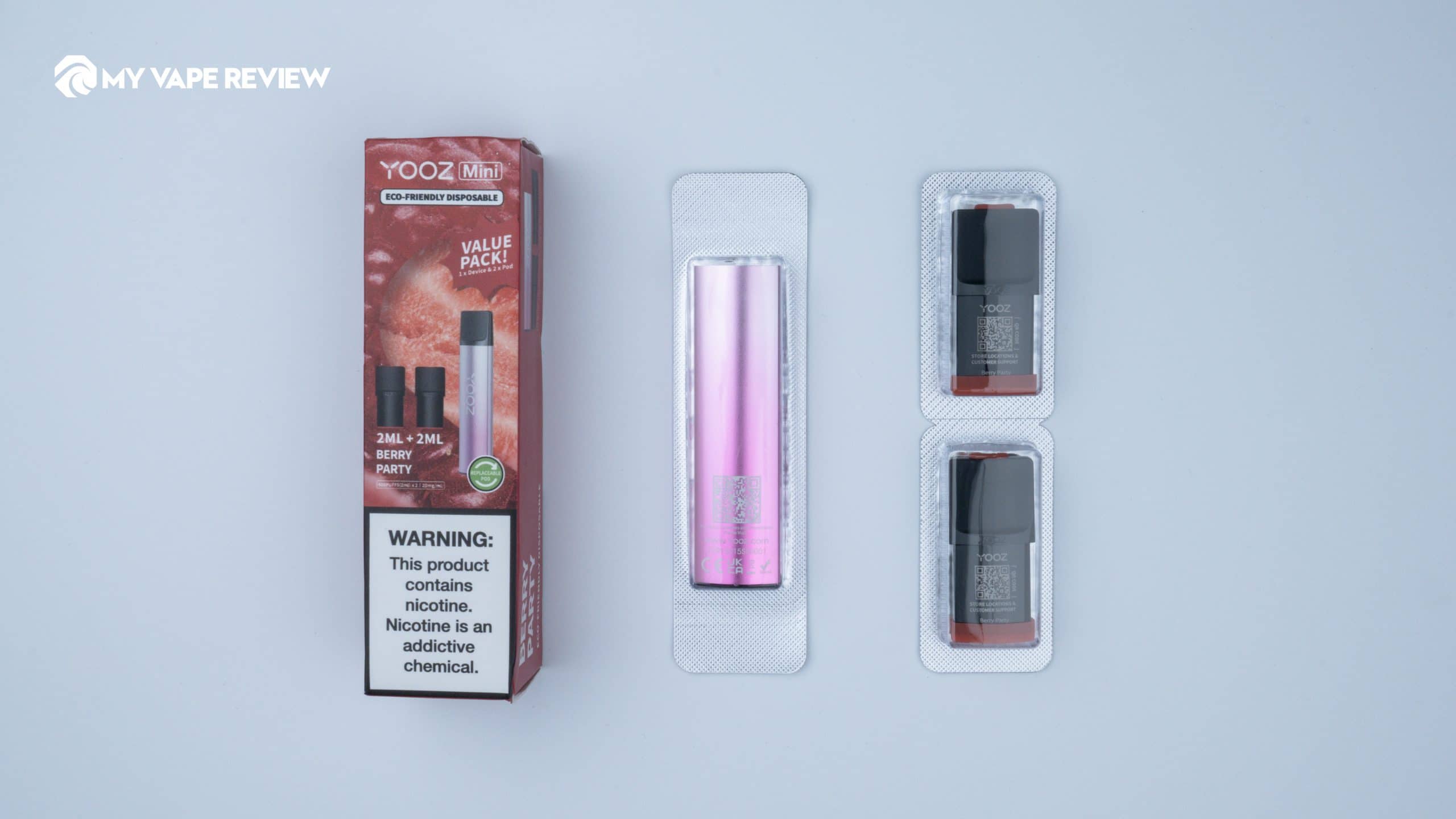 It's a nice one to pick as it offers authentic scents and tastes of mixed berries: tart, mildly sweet and tangy. Vaping on it is just like biting freshly-picked berries, marked by a clean undertone. The rich and deep berry flavor has kept me enchanted for quite a while.
This is a good flavor blend, giving pungent tastes of melon fruits, and followed up by a hint of caramel. I can't deny it presents layers of flavors, and makes sure the aftertaste is same great. It's just hard to figure it out why this is called pink lemon. There's no lemon flavor coming out since beginning up to the end.
Mango flavor is too pronounced so leaves few spaces for peach. And somehow I always captured a note of custard sweetness on exhale. But overall, this flavor left me feeling I'm vaping very synthetic chemicals, perhaps because it doesn't taste like anything we'd eaten before.
YOOZ Mini disposable vape uses large areas of metallic shell and comes in a classic cuboid shape. It's light-weighted and tiny, an ideal option for outdoor vaping. The plug-in disposable vape eliminates almost all the embellishment. There's only a huge "YOOZ" logo on one face, and codes and numbers on the others. Flavor isn't marked on the device itself. To know which flavors we're spilling clouds with, we have got to check the outer package, which for me is a real big fiddle.
Its mouthpiece design is not my type either. Personally I prefer totally rounded-off mouthpieces for their greater ergonomics, while lines of this one is a bit sharp. Luckily YOOZ Mini offers a spot-on level of suction against resistance to offer satisfying MTL draws, sort of making up for the flawed mouthpiece.
There's a Type-C charging port on the base of it. On our rough estimate, YOOZ mini disposable lasts for around 4 hours on a single charge.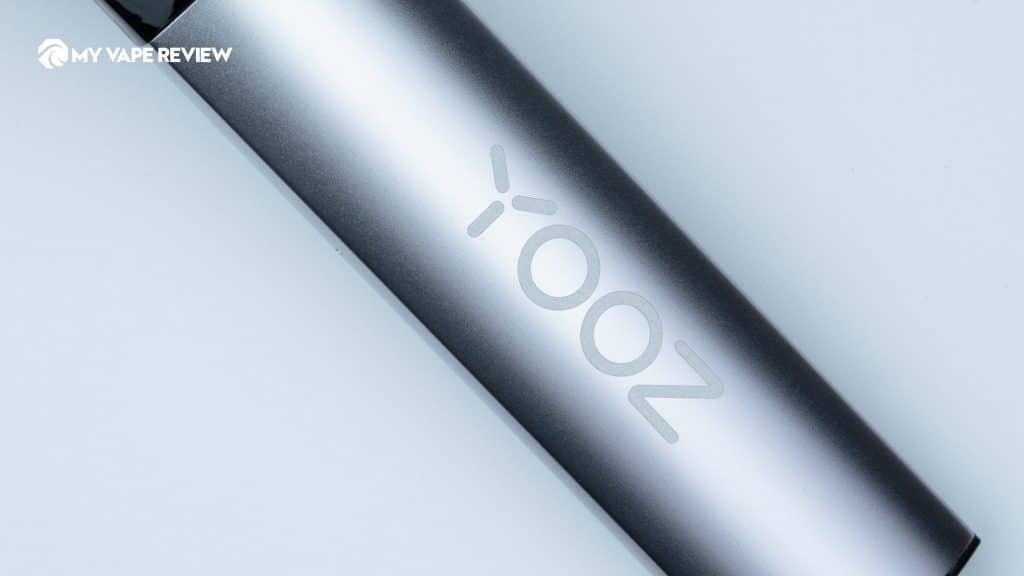 The biggest allure in YOOZ Mini disposable is its ability to produce quite warm vapors. Its restricted draw is also a plus, as the flavor intensity raises really a lot. Compared to similar disposable products, its clouds are big enough, and show pleasant smoothness. But we found YOOZ Mini's coils always crack after put aside for a while, due to quality issues I suppose.
YOOZ Mini Eco-Friendly Disposable Vape Kit MSRP: £6.99
As we mentioned above, YOOZ Mini Eco-Friendly disposable vape kit has yet to be released in countries aside from Philippines. Philippine vapers can buy this kit from YOOZ's official store at £6.99, roughly 8.78 dollars; we're not sure when it'll be available in other markets.
Overall, the Eco-Friendly kit sounds to us like a fairly good bargain. With the average price of a disposable vape, we could buy a reusable vape body, plus two pre-loaded replacement pods that last for around 1,200 puffs in total. When we vape off e-liquid in these one-off pods, just get new separate pods for replacement.
In terms of performance or design alone, YOOZ mini is an average disposable vape. It has standard flavor delivery and hits, looking extremely simple, or rather, conservative. This machine can't count as a competitive one, especially compared to so many of its fellows that compete to stand out from the crowds. While it's for the same reason that YOOZ mini won't make a mistake.
Having weighed up all the pros and cons of YOOZ Mini, we can say this eco-freindly kit is truly among the best disposable vape kits you can get your hands on when having a limited budget. It gives more products with the same money paid. Also, it's an ideal go-to for vaping starters. This foolproof bundle includes an extra pre-filled pod cartridge for emergency replacement when you empty out the first one.
Feel free to tell us your take on the YOOZ Mini Eco-Friendly disposable vape kit in the comment section below!