Aroma King is a brand that has been in the marketplace since 2019. Since that time, it has earned a strong reputation for its excellent variety of disposable vapes that have been designed for reliability and quality, especially in the UK market.
Created for practicality, user-friendliness, affordability, and most of all, an excellent taste, the Aroma King 7000 is a fantastic addition to the brand's product range. This model offers something a little different in the fact that it can be recharged as well, of course, as its capacity to impressively deliver as many as 7000 puffs. That's way more than the 600-puff Aroma King Classic.
Is it worth buying? Check it out in our review!
Specs
E-Liquid Capacity: 14ml
Battery: 850mAh, Micro-USB charging
Puff Counts: 7000
Nicotine Strength: 0mg/20mg
Aroma King 7000 Flavours
Aroma King is a brand that's known for its great array of flavours, and the Aroma King 7000 comes in an enormous choice of almost 30 different options including popular fruit, candy, beverage, and dessert inspired flavours.
A full list of the available Aroma King 7000 flavours is below:
Apple Peach Pear, Banana Ice, Blackcurrant Honeydew, Blue Razz Cherry, Blueberry Bubblegum, Blueberry On Ice, Blueberry Pomegranate, Blueberry Sour Raspberry, Cool Mint, Cotton Candy, Grape Ice, Gummy Bear, Kiwi Passionfruit Guava, Lush Ice, Mixed Berries, Mr Blue, Orange Citrus Guava, Peach Ice, Pina Colada Rum, Pineapple Ice, Pink Lemonade, Red Apple Ice, Strawberry Banana, Strawberry Donut, Strawberry Ice, Strawberry Peach Lime, Strawberry Watermelon, Vimto Crush, White Peach Razz
Let's take a closer look at some of the best Aroma King 7000 flavours: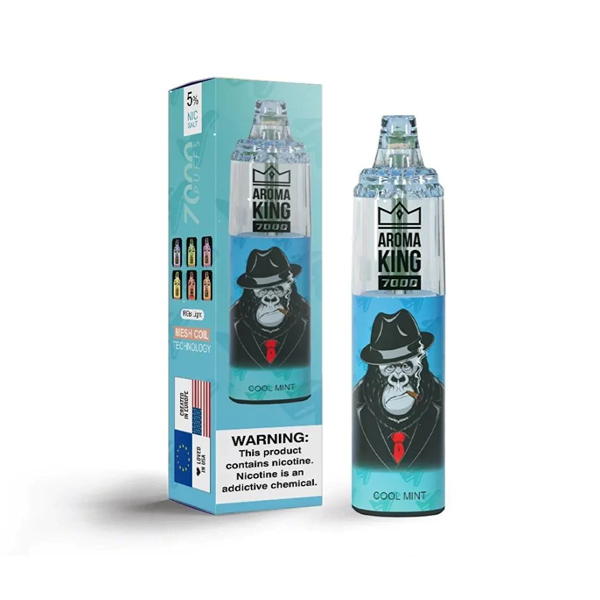 A great choice for fans of menthol cigarettes, this refreshing flavor is cool, icy, and energizing.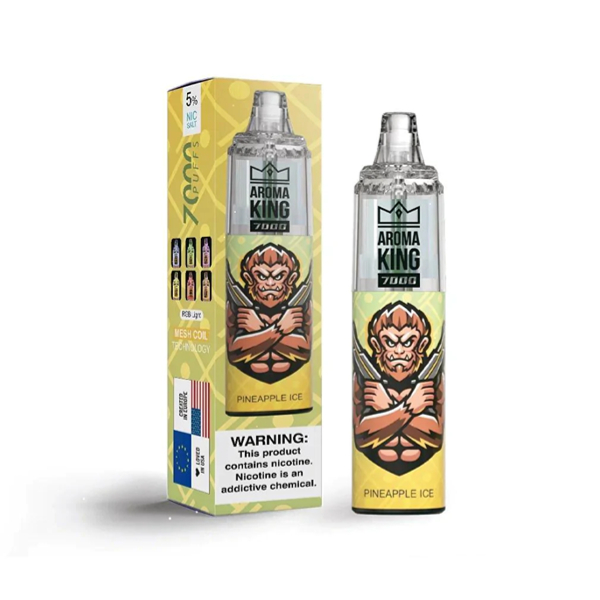 With its wonderfully tropical taste, this flavor conjures up the Caribbean with its juicy fresh pineapple taste with a hit of icy menthol on the exhale.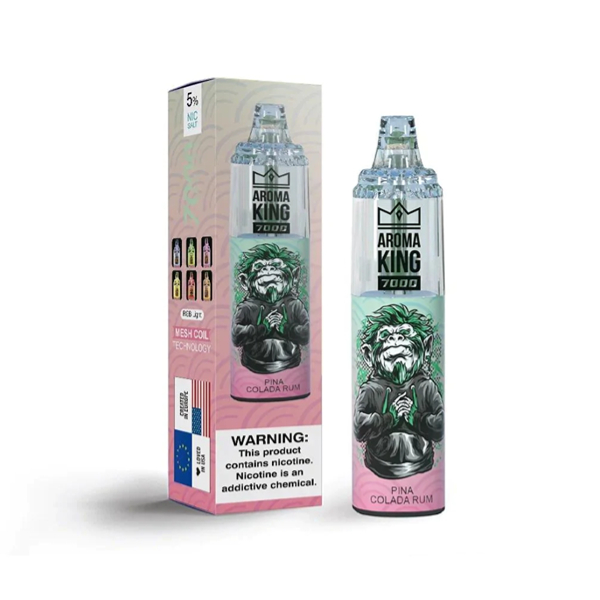 The ideal cocktail-inspired vape juice, this flavor pairs pineapple, coconut and rum tastes together in one juicy, refreshing vape.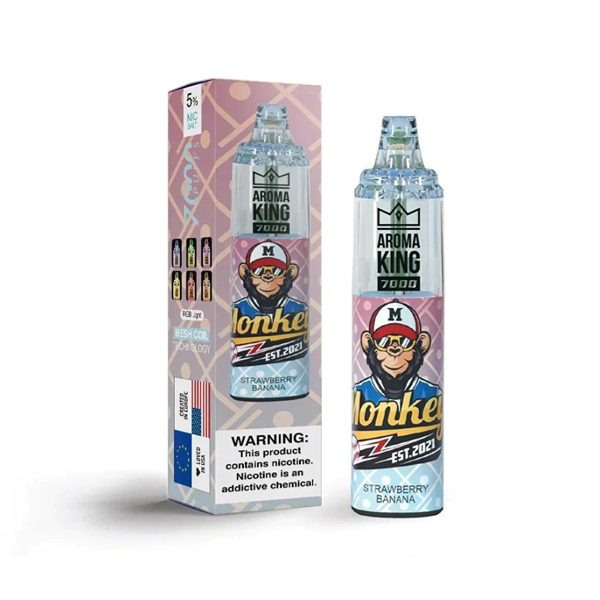 A flavoursome classic, this vape juice pairs the juiciness of ripe strawberries with the creaminess of a ripe banana for a rich and complex fruit taste.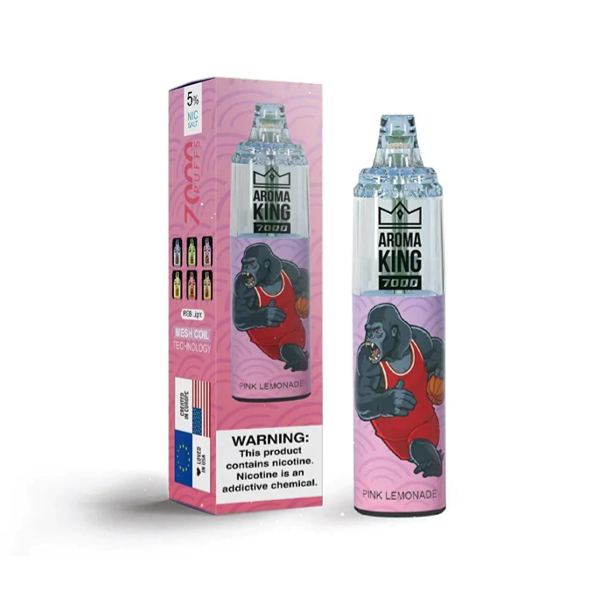 With its wonderfully refreshing, zingy tartness, this soda inspired vape juice will tingle your tastebuds and wake you up.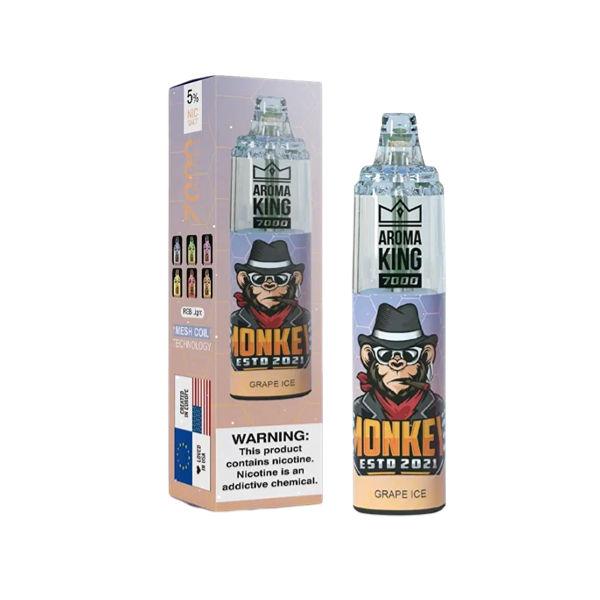 This classic flavor conjures up all of the deliciousness of your favorite grape soda but with a menthol hit on the exhale for even greater refreshment.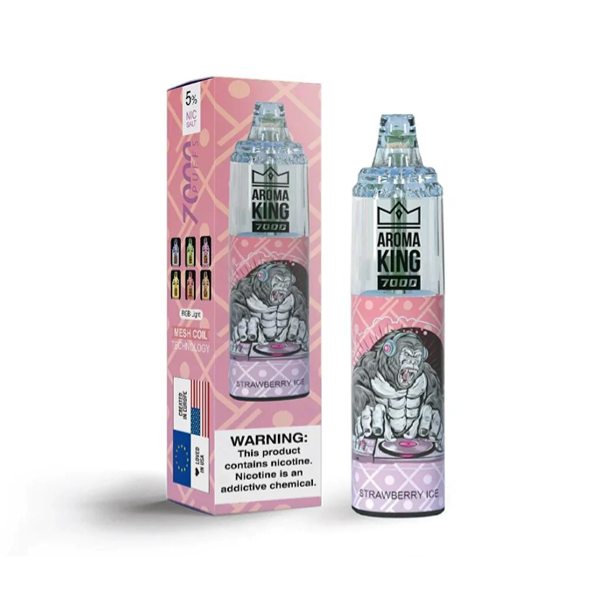 A juicy and sweet flavor of ripe strawberries on the inhale is combined with the refreshing zing of menthol on the exhale.
Conjuring up the taste of summer in one vape, this e-juice combines ripe, sweet peaches with a blast of cool menthol to make your mouth truly water.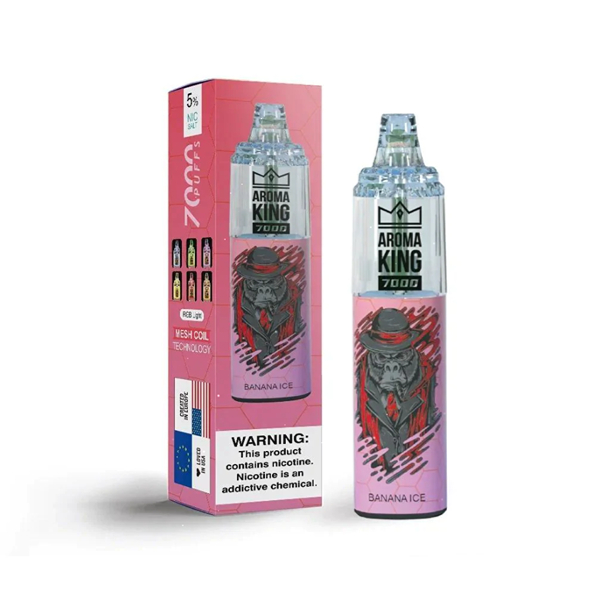 A delightfully creamy taste of banana on the inhale is paired with a refreshing minty exhale for a deliciously complex flavor.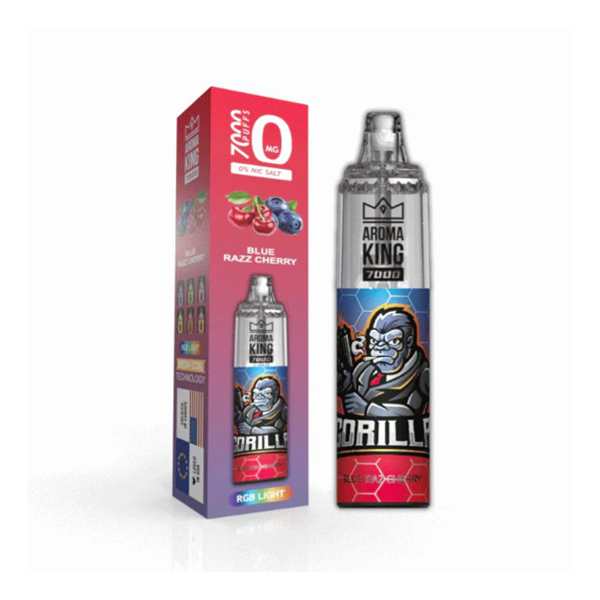 Just like a blue raspberry lemonade soda but paired with freshly picked juicy cherries, this vape has a tangy and tart flavor that tantalizes your tastebuds.
Boasting a classically cylindrical appearance, Aroma King 7000 puffs disposable vapes feature a colorful, cartoon-like image on the front that matches the packaging, with each flavor having its own character, color, and style. The device itself is smooth and easy to hold in the hand, and since it's compact, it's the ideal choice for use on the move. The comfortable mouthpiece is pleasant to use, and the device has an LED light that changes color to let you know when the battery is running out.
Battery & Charging
Powered with an 850mAh battery, the Aroma King 7000 offers the benefit of being rechargeable with a Micro USB – something that makes sure you get 7000 hits from its 14mls of 20mg nicotine e-juice inside. But the charging speed comes as a bit slower than the Type-C port packed in many other high-puff disposable vapes.
Performance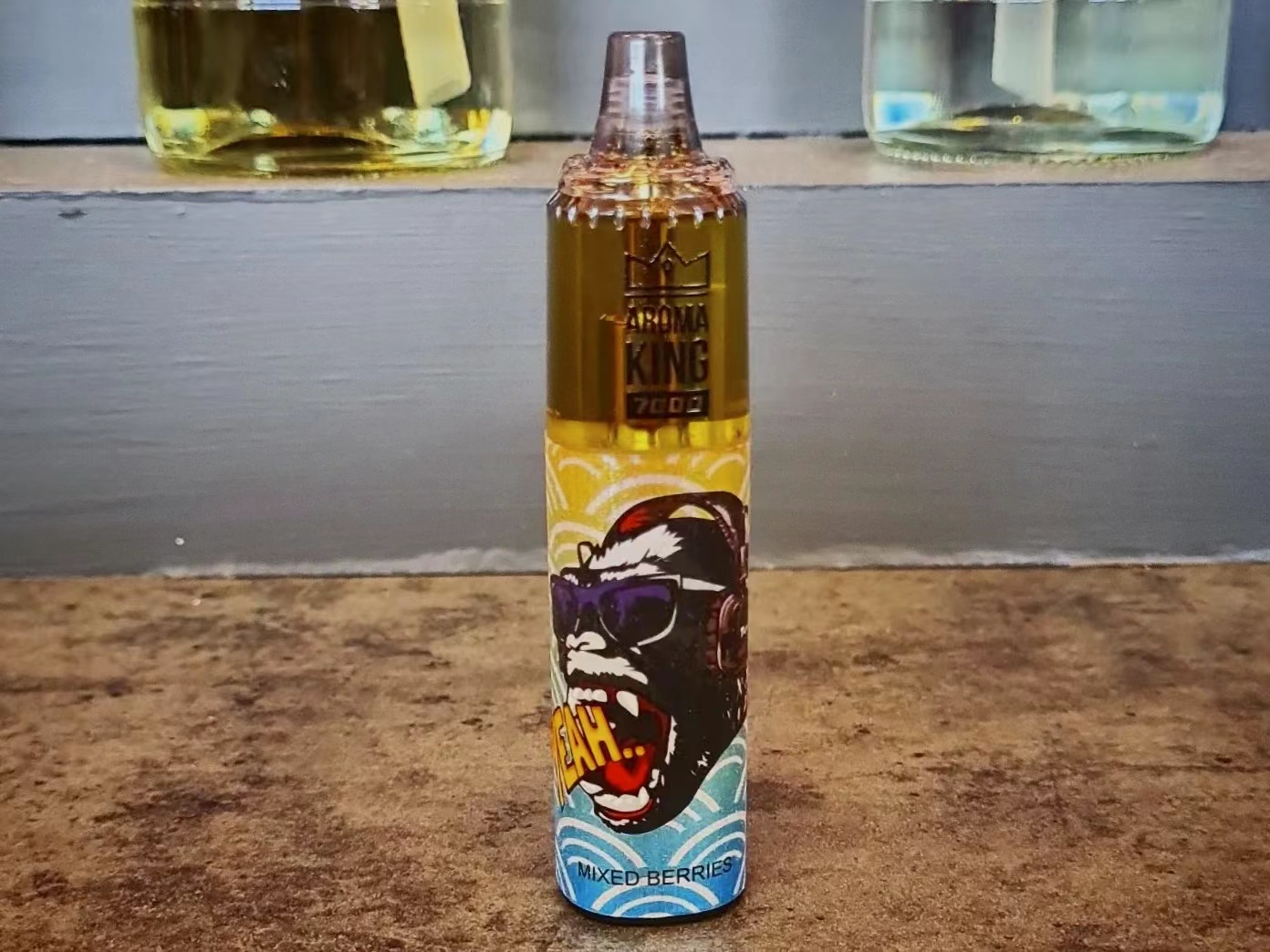 Aroma King 7000 Puffs has been designed to be easy to use. Even complete novices are going to have no problems in learning how to use this device, as it has a draw activated design that simply requires the user to draw on its mouthpiece to activate the device so it produces vapor.
The constant power output ensures an excellent performance, with vapers enjoying a satisfying experience with sufficient throat hit to satisfy transitioning smokers and lots of delicious flavor with every puff. Each taste is smooth and pure, making the Aroma King 7000 an excellent choice if you really value quality flavours that make your mouth water.
Price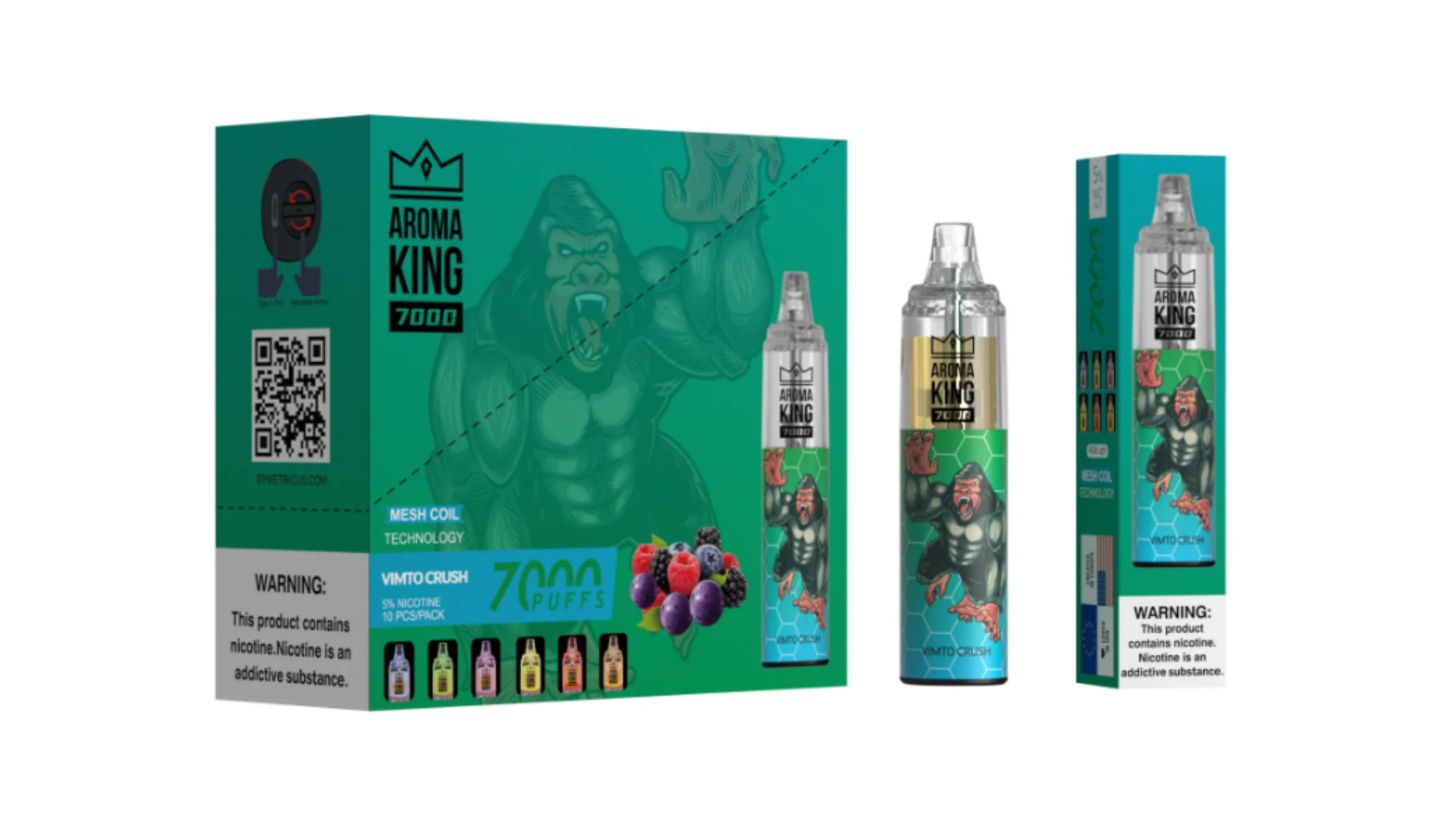 Aroma King 7000 Puffs Price: £13.99 at Royal Vapes
When you take into account the fact that these disposables have been designed to not only be rechargeable but also to deliver up to 7000 puffs, you can see why they come at a slightly higher cost than some of their competitors in the marketplace.
Although the initial price tag may look moderately high in comparison to products like the Elf Bar, the number of puffs that most Elf Bar products deliver is lower than that delivered by the Aroma King 7000. These disposables are priced roughly in line with similar products offering a like-for-like vaping experience such as the Lost Vape Orion Bar 7500.
Verdict
The Aroma King 7000 Puffs has a lot to offer vapers of all experience levels and all types. For newcomers to vaping who are keen to transition from smoking regular cigarettes, these disposables offer a pleasant and satisfying experience with a good nicotine hit and a user-friendly draw activation which makes it simple to get to grips with the switch. For more experienced vapers, the compact size and convenient design, not to mention the array of delicious flavor options, make this a great choice for use while out and about or while traveling when taking a regular box mod would be inconvenient or impractical.
Thanks to its impressive number of puffs and its rechargeable internal battery, the Aroma King 7000 is a great option for vapers old and new who want to enjoy a reliable high quality vape that's convenient to take anywhere.